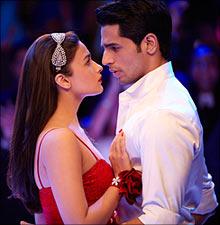 Karan Johar's Student Of The Year seems to work quite well with the younger generation. Meghatithi Banerjee, 21, from Kolkata, also gives her thumbs up.

A dazzling combination of love, friendship, best friendship, heart break, classroom competition, Karan Johar is back with an entertaining package and three fresh faces -- Siddharth Malhotra, Alia Bhatt and Varun Dhawan -- in Student Of The Year.

The movie has KJo's trademark and though it may not be Movie of the Year, it is frothy and dramatic and will appeal to an audience that has two-and-a-half hours of fun in mind.

Saint Teresa's High School, the setting of Student Of The Year, is where every teen dreams of schooling. The institution follows the rule of academics, art and athletics.

Pupils don't have to wear boring uniforms so girls are free to wear skimpy outfits and the boys to show off their six packs.

Among these lucky students are two handsome guys, Rohan Nanda, who dreams of becoming a rock star, and Abhimanyu Singh, an ambitious middle class boy. Shanaya Singhania is the heartthrob of the school.
Childhood friends Shanaya and Rohan fall in love, but to change Rohan's typical cool playboy image, Shanaya flirts with Rohan's best friend Abhimanyu and, predictably, this generates the eternal triangle.
Quite often you get the feeling that you are watching a later version of Kuch Kuch Hota Hai. None of the three youngsters can be compared to Shah Rukh Khan, Kajol and Rani Mukerji, and there are a few twists like Rishi Kapoor as the gay principal and a student of the year competition, but otherwise it's pretty much old wine in a new bottle.
Siddharth, Alia and Varun are full of enthusiasm, and do their best. Remix retro music goes well with the storyline. The dialogues and the musical romantic sequence during Rohan's brother's wedding ceremony are the scene stealers.
Though Student Of The Year doesn't have a real base, it gives every teen a chance to live a fantasy for two-and-a-half hours.
If you want to add some razzle-dazzle to your Durga Puja and Navratri, then go see it.
Rediff Rating:

Meghatithi Banerjee is pursuing her Masters degree in Calcutta University.