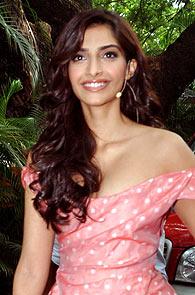 "Yes, Harshvardhan is my Mirza," says Rakeysh Ompakash Mehra for the first time on record, thereby putting to rest plans to cast Anil Kapoor's daughter Sonam as the female lead in Mirza Sahibaan.

Harshvardhan, for those who don't know, is Anil Kapoor's son who is getting ready to try his hand at showbiz.

Sonam is going through the best phase of her career, after two back-to-back hits, Raanjhanaa and Bhaag Milkha Bhaag.

Both hits accentuate Sonam's ability to transform into a small-town girl. Bhaag Milkha Bhaag also showed how effectively Sonam could become a part of a 'period'
film.
This ability to blend into an era gone-by had been observed by Mehra even before he started working on
Bhaag Milkha Bhaag,
and he had planned to cast her in the legendary love story of
Mirza-Sahibaan
.
Says a source, "It was a given that Sonam would play Sahibaan. Rakeysh and she had been intently discussing the character, her clothes, speech and body language. Then the unexpected happened. Sonam's brother Harshvardhan, who was till now not sure whether he wanted to be a director or an actor, was convinced that acting was indeed his vocation. Within no time, the entire equation of the casting changed. With Sonam's brother playing Mirza, Sonam was naturally no more Rakeysh's Sahibaan." Sonam has gladly forsaken her dream role for her kid brother.