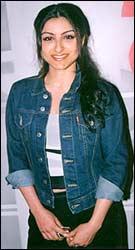 Choosing regional cinema as a launchpad, followed by the decision to work in English films doesn't seem to be the traditional career move for a newcomer, but for Soha Ali Khan, daughter of new Censor Board chief Sharmila Tagore, it was 'genetically' the natural thing to do.
"After all my mother made her presence felt in Bengali cinema before turning to the Hindi film industry," says Soha. "It's all about good scripts and roles that count. The language barrier does not make any difference for me."
Her penchant for good scripts made her choose Los Angeles documentary filmmaker Rajashree Ojha's English movie Yatna. "It's a small art-film" is all she is willing to reveal about the movie, which opens in theatres in November.
Queried about her 'different' career moves, Soha says, "I am bound to get carried away by anyone who approaches me with a good script."
But Saif Ali Khan, her movie star elder brother, advises her about the "right people to work with." She is quick to add that she gives her consent only if she is fully convinced of the project.
"I am very stubborn," she smiles with a mischievous glint in her eyes. 

"I am making my Hindi debut in Anant Mahadevan's Dil Mange More, an out and out commercial movie," says Soha when asked if art cinema is more important for her.
Dil Mange More is a "fun, breezy movie", unlike her Bengali release Iti, Srikanto (Yours Truly, Srikanto) and the upcoming Rituparno Ghosh film Anatar Mahal , both of which are period films.
The film also stars Shahid Kapoor, Ayesha Takia and Tulip Joshi, besides Soha who plays the role of "an ambitious girl hoping to make it big".
"It was difficult when it came to dancing with Shahid, especially since I am not a trained dancer," she admitted. Trained for three months in ballet and for a short period in Kathak, she found it difficult to adjust to the song and dance routine of Bollywood.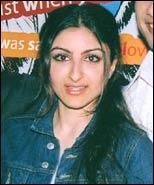 "But this is what I always wanted to do," says Soha who quit her cushy job as a private banker for the glare of the arclights. "Both me and my parents wanted me to lead a normal life, work in a normal '10 to 5' job and put my education to good use," says Soha, who has done her Masters in International Political Science from The London School of Economics.
Apart from cinema, Soha esteems academia greatly. Obsessed with reading and writing, Soha says she might pursue further education.

Soha, who believes in letting her work speak for her, says she hasn't joined the industry to do item numbers.
"I am here to act," says Soha pointedly. Prodded further, Soha says she `might' consider if its intrinsic to the plot, but even then doing a film like Jism is a complete no-no. "I am not comfortable exposing."