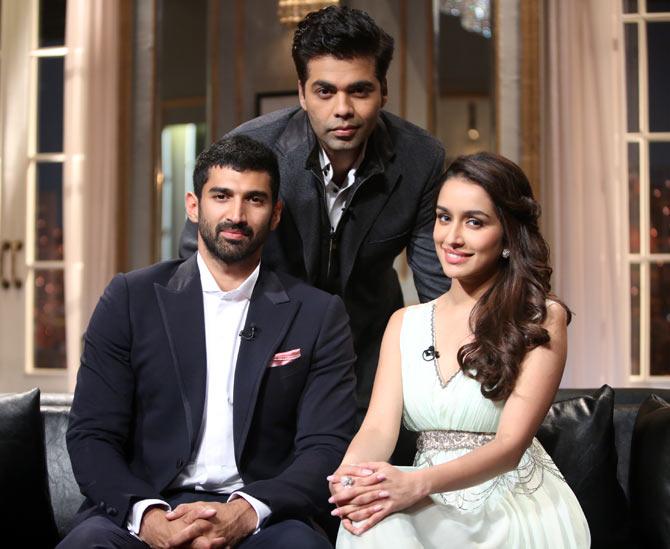 This Sunday, Koffee With Karan features young stars Aditya Roy Kapur and Shraddha Kapoor.

And it promises to be quite interesting.

Here's presenting excerpts from the show:

Karan: Do you have an amicable and cordial relationship with Aditya Chopra now?

Shraddha: He is always going to be my mentor, always.

Karan: So no matter what water ran through that bridge it's all okay now!

Shraddha: Well! I am just waiting for the day when he calls me and tells me Shraddha I want you in a film. So fingers crossed that should happen soon.

Karan: So when did you both fall in love?

Aditya: Fall in Love? Of course we love each other so much.

Shraddha: A lot.

Aditya: Over the course of the film.

Shraddha: Didn't you see it in the film, the chemistry and all?

Karan: That can be all made up, I know people who have hated each other and yet pulled that off.

Karan: Are you like a big drinker yourself?

Aditya: I enjoy my drinks but nowhere close to an alcoholic as projected.

Karan: Did you really get drunk for a few scenes?

Aditya: I tried my hand at it. I thought it was only right thing to do as an actor, to put yourself in the most realistic position. So I tried, and we packed up one day, I had a little more than I should have.

Aditya Roy Kapur's Rapid Fire:

Karan: If you were a VJ again, what will you like to ask the following people: Ranbir Kapoor
Aditya: When are you getting married?

Karan: Deepika Padukone.

Aditya: When are you marrying me?

Karan: Salman Khan

Aditya: When are you getting married?

Karan: Who do you see as the ideal casting for the following superheroes? Superman.

Aditya: Superman, me.

Karan: Hulk.

Aditya: Hulk, Salman Khan.

Karan: Hellboy.

Aditya: Arjun Kapoor.

Karan: What will reality shows of the following people be called? Ranbir Kapoor.

Aditya: Bed Time Stories.

Karan: Shah Rukh Khan

Aditya: Indian Idol.

Karan: Vidya Balan

Aditya: Surviving the Roy Kapurs.