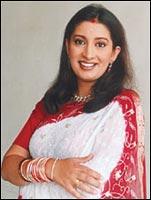 Smriti Irani, one of Indian television's biggest stars and a member of the opposition Bharatiya Janata Party, chatted with rediff.com readers on August 27.
Tulsi of the super successful Kyunki Saas Bhi Kabhi Bahu Thi fielded questions about her "melodramatic soap opera" as well as political issues.
For those who missed the chat, here is the second and last part of the transcript:
Read the first part of the transcript here
PratapB : Hats off to you for being part of a hugely popular telesoap. However, dont' U think it is not lost its credentials? Probably it would be tough to tell truth on your part.
Smriti Irani : What credentials? It's a melodramatic soap opera! It's fiction! However, even in that melodramatic, cooked up soap, I try and not project anything unethically and put my foot down especially when it comes to issues concerning women, their self respect and freedom.
---
kpojha : Hi, I am a great fan of yours, started watching ur serial since 4 yrs. I have a simple qn, when u will slap/punish mohini I m waiting for that.
Smriti Irani : Hi pooja. a) don't incite violence!b) I think Mohini's evil plans make Kyunki extremely spicy to watch.c) am myself waiting to settle scores.
---
mpsokhijammu : Howz working with Jeetendra..in Kyu..serial..r u enjoying
Smriti Irani : I always thought of Jeetuji as a producer, and didn't know how to react when I heard that he would also be my co-star. I was pleasantly surprised when I saw his behaviour on set as an actor. He was not only extremely cooperative and courteous, but never through his actions, did he ever let on that he is a living legend in the Indian film industry. I think working with him was truly a blessing.
---
SanjayGujarat : Ab apko nahi lagta ki "K S B K B T" bandh kar dena chahiyee...fourth generation u showing with black hair...!!
Smriti Irani : Sanjay ji, maine khud maang ki thi ki mere baal safed ho, lekin jab meri saas ne mana kara ki woh apne baal nahin safed karengi, to producer ne meri safedi se saaf inkaar kar diya. Mujhe khushi hai ki aap mere tarah hi vichaar rakhte hain, par agli baar jab meri baat-cheet ho producer se, to apne support mein main aapka hi prashn unke saamne prastut karoongi.
---
Sapna : Is your Husband a muslim?
Smriti Irani : My husband is an Indian, Sapna, thank you.
---
UK : SMRITU U R ENCOURAGIN STUPID SERIALS, PLZ STOP THT. PLZ QUIT POLITICS AS U DONT KOW TO PLAY THE GAME.
Smriti Irani : Dear UK, I act in my series, you encourage it by watching it. As for me quitting politics for I don't know the game, politics is not a game, it involves the destiny and the future of your country and your people. But then, with a name like UK, I don't know whether you'll appreciate that Indian sentiment!
---
Arian : I've seen some of your pics.. you're not as old as you look in KSBKBT.. why dont you do some roles where you play a younger person? you would look great!
Smriti Irani : Thank you, Arian. I've just produced my first play, where I act my age. I've done shows like KUchh Dil Se, which was a talk show on socio-political economic issues. So I do do a variety of stuff, but I think Kyunki gets the most limelight.
---
lotsahype : hi smriti whts ur opinion bout nowdays heroines becoming more bold and shedding off more clothes is it really needed for a movie to run?i dont think so the myth is a gud story line wht u think???
Smriti Irani : like your name suggests, it's just lots of hype! Sholay never had anybody stripping, yet it's one of the biggest hits Indian cinema has ever seen. This goes to prove that a good story and a good cast works ALWAYS!!
---
Gony : Who win the Ashes series?
Smriti Irani : God knows! Cricket is one of the most depressing topics for Indians today.
---
khan_amar : Hi Smriti, what is your take on reality tv
Smriti Irani : As long as reality tv doesn't get boring, it's good. I like The Apprentice, I think it's a cool show to watch.
---
Akhil : PLZZZZZZZZZZZZZZZZ Looook ThisSMIRITIJI PLEASE ANSWER ITSmiriti Ji what you want to change in the country if u get authority for a week? and Why???
Smriti Irani : Too many things! a) Ensure speedy justice and punishment for severe crimes like rape, murder, sexual exploitation of children.b) Enforce severe punishment for those who sit in positions of power and misuse it for personal gain. c) Enforce directives which make education till Xth standard mandatory for all.d) Enforce directives which ensure that youngsters who have the brightest background and education, get to compete on equal terms for every high office in our country.e) Enforce equal and effective distribution of foodgrains and essential services to each region of our country. Any individual found tampering and adulterating essential supplies like foodgrains, kerosene, milk, medication, to be given severest punishment that the law has to offer.f) To help bring about a Presidential ordinance supported by the Supreme Court of India that seeks to ban people with a criminal past to stand for any election in our country.
---
Ajaz : Salam smriti you are very good bahu of India then why do you want to become politician which is not our bread. Concentrate on social service that is enough. You have a very good reputation.
Smriti Irani : Every Indian has a right to take part in politics. Why not me?
---
sumaa : how important is marriage for a woman?
Smriti Irani : Marriage, for a man and woman both, should be an extremely fulfilling and complete experience. On the day you get married, you take a vow that from that day on, your life from two become one. For me as a person, I think I've been extremely lucky and blessed to marry a man who is not only my best friend, but who in times of need has always stood tall, protected me when I needed it the most. I think for marriage to be so fulfilling, you need to marry a man like I have. But I also know that not everyone ends up being so lucky. So my only advice or thought on this particular matter would be to allow yourself to fall in love, at least once in your life, completely. And then keep your fingers crossed that God too blesses your union forever.
---
sandip : TULSIJEEE PLZZZZ SAY HI ATLEAST TO ME..I AM GR8 FAN OF URS
Smriti Irani : Hi Sandeep.
---
iqbal : SMRITHI JI WHEN I SAW YOU AT AMUL OFFICE AT BOISAR I NEVER REALISED YOU WOULD BECOME SO BIG IN LIFEI AM PROUD TO HAVE MET A PERSON LIKE YOU IN MY LIFE.I AM YOUR GREATEST FAN.AMUL ICE CREAM - REAL MILK REAL ICE CREAM. YOU WERE INTO BUSINESS OF MAKING SOME SAUCES NA
Smriti Irani : Hi Iqbal. It's nice of you to complement me, hope to see you soon at Boisar again.
---
niki56 : smriti tell me arent u bored by doing same thing in kyunki saans bhi kabhi bahu thi?
Smriti Irani : hi niki. It's thanks to kyunki that I get to chat with you today and for that, I'll never be bored of my show.
---
Abhishek1 : Hi ,Smriti are you planning to enter into full-time politics?
Smriti Irani : Hi Abhishek. I am in politics, full-time. That's exactly why I need to take your leave right now, because my political office beckons me. BYE FOLKS!