Danny Boyle's Slumdog Millionaire, having conquered the hearts and minds of Hollywood -- winning 4 Golden Globe awards in the process -- now turns its sights on the United Kingdom.
Also Read: Slumdog: Review 1 |  Review 2
The Mumbai-based rags-to-riches story has received a startling 11 nominations for the 2009 BAFTAs (British Academy Film and Television Art), as has the Brad Pitt-starrer The Curious Case of Benjamin Button.
Slumdog Millionaire was nominated in the following BAFTA categories: Best Film, Adapted Screenplay, Cinematography, Editing, Music, Production Design, Sound and Outstanding British Film.
Danny Boyle has been nominated best Director, 18-year old Dev Patel for Leading Actor and Mumbaikar Freida Pinto for Supporting Actress.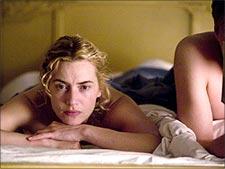 Those contending with Slumdog Millionaire and The Curious Case of Benjamin Button for best film are Frost/Nixon, Milk and The Reader.
Others to receive multiple nominations are Batman: The Dark Knight (nine nominations), Changeling (eight), Frost/Nixon (six), The Reader (five), In Bruges (four), Milk (four) and Revolutionary Road (four).
Patel, a London-raised teenager, will vie with resurrected actor Mickey Rourke (The Wrestler), Frank Langella (Frost/Nixon), Sean Penn (Milk) and Brad Pitt (The Curious Case of Benjamin Button).
Kate Winslet, who managed two Golden Globes earlier this week, has been nominated twice over in the leading actress category: once for The Reader and once for Revolutionary Road.
Pitt is another double nominee, for The Curious Cause of Benjamin Button and for Burn After Reading, where he'll compete with the late Heath Ledger (The Dark Knight) in the Supporting Actor category.
This year's BAFTAs will be held at London's Royal Opera House on February 8.