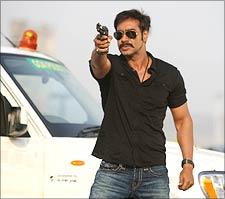 The screening of Ajay Devgn-starrer Singham had been stalled in Karnataka following protests over a dialogue that hurt the sentiments of Kannadigas. But the film was back on track after the team tendered an apology.

The apology came from Reliance Big Entertainment, director Rohit Shetty, and actors Ajay Devgn and Prakash Raj.

The dialogue has now been removed from prints in Karnataka. Measures will also be taken to do the same across India and abroad, they assured. 

Both Shetty and Raj, in letters sent to the Karnataka Film Chamber of Commerce, have said that they are proud Kannadigas and hence would not deliberately hurt the sentiments of their community.

Pro-Kannada organisations had staged protests on the day the film opened, and in Hubli, the protesters were lathi-charged.
The Kannada activists have taken exception to Ajay Devgn's reply to Prakash Raj, who plays the villain and threatens to get 1,000 men from the Karnataka border to fight Devgn, a cop. Devgn counters the challenge by saying he can get many more from the districts of Maharashtra but just one Maratha like him is enough to handle 'dogs like you'.

The protesters' interpretation of this was that Kannadigas were referred to as dogs.
Prakash Raj, speaking to television channels, said that the reference was to the villain and not to Kannadigas. He also said that he plays a Maratha and not a person from Karnataka in the film and thus there was no need to interpret the dialogue in any other way.

Despite the apologies, the protesting organisations have adopted a wait and watch policy. They said that if they find that the offending dialogue is not deleted from prints across India, they will disrupt screenings in the state yet again. The Karnataka Film Chamber of Commerce (KFCC) has also said that it will correspond with film chambers in other states to make sure that the dialogue is removed.

President of the KFCC, Basant Kumar Patil, said, "It is not the first time that Reliance has made a mistake. It's almost like they have an apology letter ready with them!"
He was referring to the tussle between KFCC and Reliance over the release of two other films, Kites and Raavan, in more theatres than those stipulated to non-Kannada films in the state.