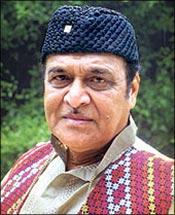 Legendary singer-composer Bhupen Hazarika is battling for life at the Kokilaben Dhirubhai Ambani [ Images ] Hospital in Mumbai [ Images ], and is on dialysis.

'Hazarika's condition is critical. He has infection and is on medical support and dialysis. We hope that he improves within two-three days," Jayanta Narayan Saha, in-charge of media relations at the hospital, told PTI.

He added that the singer is not in coma.

Hazarika's health deteriorated on October 23 after he developed pneumonia. He had to undergo a minor surgery whereby doctors placed a food pipe into his system.

The 86-year-old Dada Saheb Phalke Award winner is undergoing treatment at the hospital since June 29 after he complained of breathlessness. Ever since then he has been confined to his hospital bed.

Hazarika is perhaps the only living balladeer in the country, composing his own lyrics and music, Hazarika lent his voice to the film Gandhi To Hitler [ Images ], where he sang Mahatma Gandhi's [ Images ] favourite bhajan Vaishnav jan.

Hazarika, who has a genius for weaving a magical tapestry out of traditional Assamese music and lyrics, is regarded as one of the greatest living cultural communicators of South Asia.

He has been a poet, journalist, singer, lyricist, musician, filmmaker and writer.

The Padma Bhushan awardee celebrated his birthday on September 8, sadly, in the ICU.