Cricketer-turned-politician Navjot Singh Sidhu is known for his sharp wit, which he puts to good use as a judge on the reality show, The Great Indian Laughter Challenge. Friday's grand finale of the season four will not see the last of Sidhu. He will judge the Champions show next, which airs on October 10.
Rajul Hegde spoke to Sidhu about the show's funny moments, and more.
What do you think is the secret behind the show's popularity?
Laughter Challenge is evergreen. It is the highest rated reality show in India because of teamwork. Nobody can whistle in a symphony. There are two difficult things in life -- one is to make a good name and the second is to sustain it. We have not only made it big but also stayed big.
What keeps you going in
Laughter Challenge
?
Star One channel. Parizad Kolah Irani (host), the director and I are the only constant people on the show.
What keeps the show going?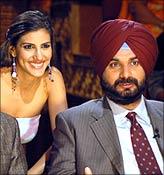 Reinvention. Fresh talent keeps coming. The show is a platform which gives them recognition.
Contestant Bharti Singh said you are one person, who can laugh continuously for 12 hours. Where do you get all the energy?
I get energy from meditation. I wake up early in the morning and meditate for five-six hours and focus on mantras. 
Don't you think the jokes get repetitive after a certain point?
No. If comedy is repetitive that it won't be the highest rated show. It's not about the jokes, it is about the characters these comedians have created. It is about changing the dimension of the show with freshness, new judges and format.
I laugh at good jokes but the channel cuts and pastes my laughter to jokes that are not funny. Viewers think that I laugh at everything and that I do it for TRPs. But I have no objection.
Whom did you enjoy the most as your co-judge?
Everyone. The first season was a big hit and it was my first love. Judges or hosts may come and go but Laughter Challenge is an institution, which remains forever.
What do you have to say about female comedians?
It's a new dimension, a new feather in our cap. Women have inhibitions, which is a handicap on a laughter show.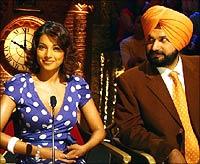 There are rumours of competition between you and Archana Puran Singh, who judges Comedy Circus.
I never bother about what people say about me. I don't watch television and have no idea about it. I don't watch even my show. If they say that, I wish her all the best.
Cricket, politics, commentating and television -- what do you enjoy the most?
I enjoy everything I do. The moment you stop enjoying it becomes a burden. Responsibility makes you better or bitter. It always develops you. All good things come to end some day. There is a saying Jack-of-all-trades master of none. But I am a master of all trades, Jack of none (Laughs).
What about films?
I have done a Punjabi film. When I was sent to jail for a day, I wrote the dialogues. I played myself in the film and my lines were used. There was no difference between reel and real life Sidhu. I've always spoken from my heart. 
What about Hindi films?
I was offered a few Hindi films but I refused because my constituency was demanding. I was offered a comic role in Singh is Kinng but I refused it. I am a witty man, not a comedian. It is like caviar on toast never marmalade. I have never tried to crack jokes. I changed the name from Great Indian Comedy Show to Great Indian Laughter Show. I refused to judge the show if they didn't change the name.
Has anyone complained of shoulder pain after sitting next to you in the show?
Not really. Maybe they are scared to say so.