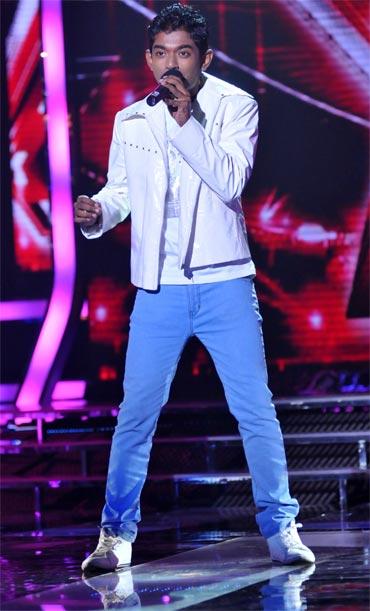 Kolkata boy Shovon Ganguly is the second contestant to be eliminated from the music reality show X Factor, on Saturday. Shovon and Sahiti, both from Sonu Nigam's team, were in the face-off round having got fewer votes.

Though Sahiti had a problem in getting her lyrics right initially, she managed to continue smoothly once she started. "I had put a lot of effort into my singing in the face-off round. Sahiti forgot the lyrics while singing. After the face-off round, the judges came and patted my back. So I was surprised when I was voted out," says a disappointed Shovon.

Shovon is trained in classical and semi-classical music. He wants to open a recording studio, and compose and record songs. So, does early elimination discourage his aspirations?

"Not really. Now people know me and I have got a good exposure. I hope to become a successful playback singer."

Manna Dey and Sonu Nigam have been his idols. In his last interview, Shovon had said that he is glad he got the opportunity to meet one of his idols and to have been a part of his team.

On his mentor he said, "Sonuji is a true performer. He taught us how to perform while singing and impress the audience. I could never dance well but during the show I learnt to dance."

Ask him about his best performance in the show and he says without hesitation: "It has to be Ainvayi Ainvayi (from Band Baaja Baraat) because it was my first Punjabi performance. I had to really work hard to remember the lyrics. I also got good comments from the judges."

And there's another plus for X Factor.  "When I came to Mumbai I wasn't comfortable in Hindi but now I manage to converse in Hindi. All thanks to X Factor and my room mate Piyush Kapoor."
As for who really has the X factor, Shovon feels Nirmitee and Deewane have a good chance of winning the title.