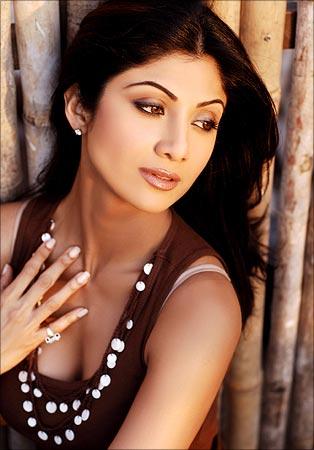 While India is getting used to Bigg Boss, Shilpa Shetty has gone and joined the real thing. She now appears on the Celebrity version of UK reality show Big Brother, and the actress has reportedly been paid a whopping amount for doing the show. 
Shetty appeared along with former Miss Great Britain Daniella Lloyd and Michael Jackson's brother Jermaine on Celebrity Big Brother. 31-year-old Shilpa has been included in the list 'to spice things up and sex up the show' in what is likely to be the steamiest season so far.
Shilpa's appearance in Celebrity Big Brother is bound to be hugely controversial in India where public morality is different from what one sees in a Hindi film, analysts said. However, producers of Big Brother hope to attract more than two million Asians living in the UK.
According to The Sun, 'The Dinner Date challenge will see housemates including former Miss Great Britain Danielle Lloyd and Shilpa Shetty pairing with the person they find most attractive. They will be fitted with special heart-rate monitors and must seduce, flirt and do whatever it takes to get their partners' pulse rates soaring. The courtship will be 'performed' at a candlelit table for two minutes while fellow housemates look on. The couple with the highest readings win the task."
The celebrities for this season form a peculiar lineup. Jermaine Jackson, a former member of the Jackson 5, and Danielle Lloyd, a glamour model who lost her Miss Great Britain title, were the first to go in. Legendary film director Ken Russell was next, followed by former S Club 7 singer Jo O'Meara. Singer Leo Sayer, Shilpa Shetty and Carole Malone, Sunday Mirror columnist, followed.
The next contestant to enter the house was rocker Donny Tourette, lead singer of the punk band Towers of London. Next to enter the house was former pop singer, Ian 'H' Watkins, who was a member of the group Steps. Actress and writer Cleo Rocos was the next to join the celebrities. She shot to fame on The Kenny Everett Show in the 1980s, and said her former co-star would have loved watching the reality TV show. Dirk Benedict was the final celebrity to enter the house. He became famous in the hit 1980s show The A-Team.
In last year's show, eventual winner Chantelle Houghton had been 'planted' as a non-celebrity but proved the most popular contestant. Another highlight from last year was the MP George Galloway pretending to be a cat, licking milk from the cupped hands of actress Rula Lenska. Votes from viewers will decide which stars are ejected during the series, which is expected to last about a month. Each celebrity will nominate a charity and the money raised during the voting process will be split equally between the organisations.