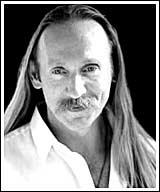 I walked into south Mumbai's Café Leopold at 4 pm on a warm Wednesday afternoon. Feeling like a woman on an undercover mission, walked up to the cashier and whispered: "Shantaram."
Instantly, the man's face brightened. I asked whether Shantaram -- Gregory David Roberts, whose book Shantaram is a global bestseller being made into a movie starring Johnny Depp -- was expected that evening.
The man said he couldn't say for sure, and suggested I wait.
For nearly two hours, I was "eating people with my eyes" -- to use a phrase I would later hear the elusive Roberts use.
My mind was thick with anticipation. I had traversed through slums, prisons, mountains and war in step with his narrative. His words had touched me like few others had. And now here was the opportunity to meet the man in the flesh!
It was nearing 6 pm when my eye caught a glimpse of a swish of blonde hair and the glint of chrome. From the description my friend Ankur had given me, I knew it was Roberts, parking his Bullet outside the café.
As he stepped into the fluorescent light, the room seemed to brighten. He shook hands and greeted most everyone who worked there.
From his glossy mane worn in a slick ponytail to his crisp shirt, trousers and boots, everything about him was impeccable. His athletic frame and gait belied his age. His blue eyes sparkled with mischievous humour.
He settled down at a table behind me with a group of others who had been waiting.
It was the moment of truth. I steadied my nerves and stepped up to his table.
I introduced myself with, "Hello, I've read your book and completely loved it. Would you mind if I joined you?"
He offered me a seat and asked my name. I introduced myself to the group: An Australian named Brett, his Indian colleague Jeetendra, and Nasir Bhai, the operations manager of the Shantaram Charitable Trust.
I was carrying a notebook with me and Roberts asked if he could sign it. I retrieved my copy of Shantaram and put it on the table. He beamed and proceeded to sign it, in the fanciest scrawl I've seen!
The message read:
'February 2006, Leopolds, Mumbai
For Meera,
May all those you trust with your heart cherish the truth in you and stay true to your precious love.'
Intrigued by his handwriting, I asked him about it.
"Well, to forge passports and other documents one has to develop an artistic hand," he quipped.
Over the next two hours we talked about varied experiences, events and people. But of course, we began with Bombay, because Shantaram is, essentially, a love song to the city.
I asked him prompted him to escape to Bombay of all places. He explained that it had to do in part with chance and in part with fate.
An Australian friend of his was in love with India, and especially Bombay. The only time she experimented with heroin, she overdosed, and he saved her from near death, forging a strong bond between them.
She implored him to visit Bombay, to make it his new home and predicted that one day he would.
At that time he was a fugitive, preparing to flee to Germany.
He reasoned it was important for him to move to a country where his white skin would not stick out like a sore thumb.
He was an extremely aggressive man, always looking to settle things with a fight. If someone looked him in the eye, he'd stare back with a gruff: 'What d'ya want mate?'
She would lovingly rib him saying that in India everyone would stare at him; what would he do then? He said he would beat them all up.
He first left Australia for New Zealand, where he spent a few months growing marijuana to raise money for an airplane ticket.
With 30 kg of the stuff in a backpack, he hitchhiked cross-country to the south of New Zealand where he sold the grass and bought a ticket to Germany.
His flight had a bonus two-day stopover in Bombay.
On his way from the airport into the city by bus, he fell in love with the city, and knew this would be his new home.
Today, a self-confessed "South Bombay guy," his affection for the city is apparent. He says if you really have the will to survive, this city can lift you up from the dirt.
This, he says, saved him on more than one occasion.
One night, when he had no money to afford a hotel room, he ended up sleeping in the doorway of a shop in Colaba. With sheets of newspaper for a bed, he had this foreboding that life had given up on him and there was no way he could pull himself up out of this.
But the city came to his rescue, and picking up on the hustler's code, he made enough money to keep himself off the street.
Now, to give back to the city, he has set up the Shantaram Charitable Trust. His mission: To rid all the city slums of tuberculosis, starting from his beloved Colaba area.
He is importing state of the art technology from Australia, including vans fitted with specialised X-ray units meant for diagnosing TB.
I posed some of the questions that had been buzzing like flies in my head ever since I read Shantaram.
Why did he choose to leave so many threads unresolved in the book; such as the issue of Madame Zhou? Whatever happened to her?
"I don't want to spoil it for you," said a smiling Roberts, and went on to explain how Shantaram was Book Two of a series of four books he plans to write.
Each book, he says, has an underlying theme. Shantaram dealt with the theme of exile, and book three -- titled The Dark Side of the Mountain – will deal with moving from darkness to light.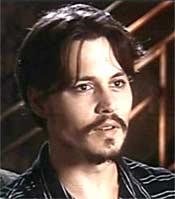 I asked him how he managed to recall all the details of events, people and places he had experienced.
He said although the events in the book are real, the characters are only inspired by real life ones.
As most of us know, he had to rewrite the manuscript twice over as prison guards destroyed it in attempts to 'break' him. He now wears a data storage device cleverly designed as a watch, which stores all that he's ever written.
He wears another watch as well, which is set to Los Angeles time.
Roberts is working on five movie scripts, including that of Shantaram. He confided that he might appear in the movie, in a scene involving 20 goons on bikes.
And we laughed heartily as he imitated how Johnny Depp had done an animated Lin during characterisation sessions for the movie.
Netflix delivers DVD rentals -- from $ 9.99 a month. No Late Fees, Free Shipping. Two week FREE Trial.