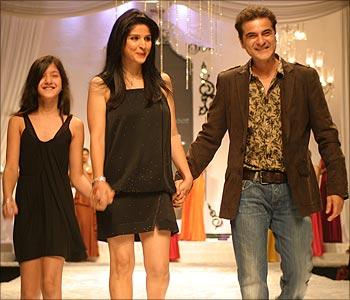 Much has been said about Shah Rukh Khan's brawl with Mumbai Cricket Association officials at the Wankhede stadium on Wednesday night. Both sides have given their versions about what happened that night.

But what really happened? Which version is right?

We spoke to Maheep Kapoor, actor Sanjay Kapoor's wife, whose 12-year-old daughter Shanaya was one of the children accompanying SRK that night.

Here's what she told Sonil Dedhia:

"The kids went on the ground and started playing cricket. If they have committed a mistake, that doesn't mean they have committed a crime. I think the issue is just blown out of proportion," Maheep told Rediff.com

"I respect what the MCA officials said. Even if the kids are wrong, that doesn't give them a right to be aggressive. Also, Shah Rukh is not a fool. He abides by the rules. I have seen team owners like Vijay Mallya and Preity Zinta walking on the field. What is so wrong if Shah Rukh did it?"

"Shah Rukh had gone to pick up the kids," she continues. "It is ridiculous because he was just being a protective parent and guardian to the many children present there, including my own."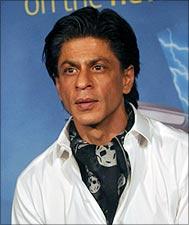 "I don't think any parent would like to see a child being manhandled. Shah Rukh had to react because the security guard was aggressive with the children and even pushed a 12-year-old kid. It was not required. As a parent, even I would have reacted in a similar manner," Maheep said.
While some MCA officials and one police officer have alleged that Khan was drunk, Maheep denies it. "It's bizarre. Shah Rukh is a social drinker. I don't think he would ever drink when he is around kids. Just because he is a star, people are trying to frame him."
Maheep feels Khan was provoked by MCA officials. "Why just blame Shah Rukh Khan for taking charge of a situation in the face of out-of-line security? He is a thorough gentleman. I have known him and his wife Gauri for 16 years. He is magnanimous and chivalrous. I am sure he was pushed to the limit, and that's why had to use the (abusive) language in the verbal spat that took place."
Maheep's daughter will attend the Kolkata Knight Riders game on Saturday.
"My daughter is flying with him tomorrow to Pune and then Kolkata," says Maheep, adding, "I am not worried because I know she will be taken care of. He has always taken care of our kids. I know she will be safe and sound with him."