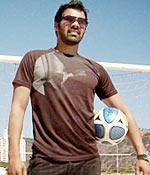 Television actor Shabbir Ahluwalia proved he had more sport in him than squash champion Ritwick Bhattarcharya, when he defeated the latter in Fear Factor - Khatron Ke Khiladi.

Shabbir won a Mahindra Scorpio and cash prize of    50 lakh.
He talks to Rajul Hegde about the win.

How was the KKK experience?

It was thrilling -- very different from routine. And the boys were amazing. Brazil is the apt location for these stunts. And it was my childhood dream to visit this place.
Which was the toughest stunt?
Riding the bull. It can be really dangerous if it goes wrong. No matter how much safety is taken, at the end of the day, it's an animal. If you fall and it steps on you, then God help you!
The most disgusting stunt?
I hated the body bag task where we had to lie down in body bag in the dark along with worms and insects. We had to unlock a lock using the right key, out of the six keys given.
Have you overcome any fear?
The only fear I had was god -- fear is more of a state of mind. Through this show I have realised that when you are pushed against the wall, there is nothing a human mind cannot achieve. It's just how you condition your mind. When you know that you have to do a particular stunt and do it well, your entire focus is on that fact. You then forget where you are.
How was Priyanka Chopra as a host?
She was fun. She had the right attitude and was spunky. It was not an easy task to manage all the 13 men but she handled it very well.
Did you guys bond well?
There was no backbiting. If anyone's stunt went wrong, the rest would fully support him. We really bonded well. I am still in touch with Ritwik Bhattacharya, Dino Morea, Rahul Bose and Abhishek Kapoor.
What will you do with the prize money?
I want to buy an island and a couple of aeroplanes (laughs). Honestly, I haven't really thought about it.