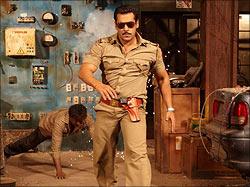 The much-awaited
Dabangg 2
released amidst much anticipation on December 21, and many of us caught the film, first day first show.
And not without reason. It's the sequel of Salman Khan's 2010 blockbuster
Dabangg
.
Did you watch the film yet?
If yes, here's YOUR chance to review the film.
What do you think of the plot? The actors? The music? The direction? Did you enjoy the film? Would you recommend it? Or would you trash it?
Do send in your star rating (out of five) as well.
Please limit your reviews to 250 words. Reviews longer than this word limit will be trimmed to size.
We reserve the right to edit/rewrite your review.
Once your review is accepted by and published on rediff.com you cannot publish or submit it elsewhere without our permission. Published reviews become the property of rediff.com
Mail your review to moviesdesk@rediff.co.in. 
The last date for receiving the Dabangg 2 review is Wednesday, December 26.