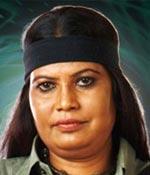 Former dacoit Seema Parihar is the latest housemate to be evicted from Bigg Boss.

Though Seema was disappointed to lose the fight after being so close to winning, she hopes her positive image on the show will help her get new offers in the glamour industry.

"I am sad that I out of the house when there are just three weeks left for the finale," Seema said. "But I am glad that I managed to live in the house for 11 weeks."

Seema, who has spent about 18 years in the Chambal Valley, feels great to have been in the show. "I followed all the rules and considered everybody as a friend," she said. "I lived in the house and did household chores like I would do in my house. I was not intimidated by their stardom."

Seema claims she will keep in touch with her friends Manoj Tiwari, Shweta Tiwari and Samir Soni.
But ironically, Seema had voted against Manoj, who got quite upset about it. "I consider Manoj as my brother but I had to vote against someone. And also, it's not like he has never voted against me. There is nothing to feel bad about," she explains.
On being asked about the transformation in Dolly Bindra's behaviour, she said, "Dolly was real when she came first. After her re-entry, it seems her family and friends told her how she should behave in the house. But you must appreciate her for trying to improve herself and keeping a check on her behavior."
She was host Salman Khan's favourite in the house. "Salman bhai was smiling while talking to me but he was sad when he said I have only five minutes to leave. I have taken down his phone number and will try to stay in touch with him."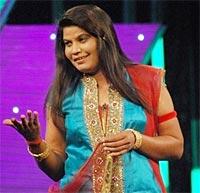 Seema says she would hardly get time to watch television earlier, and had not even heard of Bigg Boss before she came on the show. "When I got this offer, I called Rajeev Cheddha (film distributor) in Uttar Pradesh, and asked him about the show. He explained everything about the show and encouraged me to take part in it. He told me visibility on television will help me to clear my image. All the credit goes to him," she said.
Seema has acted in a movie called Wounded, a film chronicling her life. "I am planning to do another film. I was in talks with a director before entering the show. If he agrees, we will do a film on women bandits. I even heard from my relatives that I have got couple of TV offers. I am open to offers."
Seema is eagerly waiting to meet her five-year-old nephew. "I am planning to go back to my hometown as soon as possible. My son and nephew were in Mumbai when I came out of the house. But my nephew was very upset when he couldn't come on TV. He has asked me to get him some nice chocolates from Mumbai," Seema smiled.