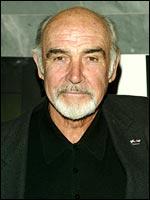 Sir Sean Connery has pulled out of his current project, Josiah's Canon, scheduled to begin filming in February.
The actor gave up a $17.5 million fee from Fox to focus full-time on writing his memoirs, his Los Angeles publicist said.
Variety, the Hollywood industry newspaper, reports that Connery might be about to announce his retirement.
Publicist Nancy Seltzer refused to confirm or deny the rumour, saying simply, 'There is nothing to add to the report.'
The Scottish star, 74, has been cutting down on his cinematic output.
In the years between the 1986 release of Highlander and 1999, the star made 20 films, but since then, has appeared only in two.
The last film he appeared in, Stephen Norrington's The League Of Extraordinary Gentlemen, opened to critical yawns, and there were reports of Connery's fierce arguments with the director.
Variety said, 'The headaches of mega-budget studio films have completely sapped his enthusiasm.'
One of the rare Hollywood folk to endure on the A-list for several decades, the Scot is best known for bringing James Bond to life, and his seven films are acknowledged as the best of the franchise. He has been a staunch supporter for Scottish nationalism, a cause that delayed his eventual knighthood in 1999.
Harper Collins won the bidding war earlier this year, agreeing to pay him £1m for his memoirs, outside of any US publishing deals. The work will chart his rise from the humblest of beginnings (having formerly worked as a coffin polisher, among other unglamorous professions) in Edinburgh, to his cemented status as a Hollywood icon, and is often called one of the sexiest stars in the history of cinema.
'Having always vowed never to write my autobiography, here I am standing on the runway awaiting my journey into a new space,' he told reporters at the time. 'It's rather scary, but utterly exhilarating, and I'm looking forward to it.'
Photograph: Getty Images