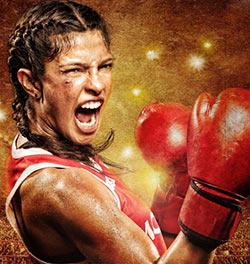 Producer Sanjay Leela Bhansali is overwhelmed by the impact of the Mary Kom trailer, that was released recently.
"We wanted to tell Mary Kom's story. Her life has everything -- drama, passion, valour, warmth and humour. Her story was waiting to be told on screen," Bhansali says.
The trailer shows Priyanka Chopra in a state of unconditional surrender as the Olympian fighter.
The film also shows her troubled relationship with her father, her boxing guru, and the man in her life, played by Darshan Kumar.
"Now that we have completed the film, it is impossible to imagine anyone but Priyanka playing Mary Kom," Bhansali continues. "She has lived the role. She breathes life into every pore of the character. There are other very fine actors in the film, chosen because they suit the role."
The only doubt raised by the trailer is that Priyanka does not physically resemble the real Mary Kom.
SLB defends his choice stoutly: "I don't think the physical resemblance is as important as capturing the soul of the person that the actor is portraying. How much like Charlie Chaplin did Robert Downey Jr look in Chaplin? Did Meryl Steep actually resemble Nora Ephron in Heartburn? Did Robert De Niro actually look like Al Capone in The Untouchables? Or did Van Kilmer look like Jim Morrison in The Doors? No. It's the core, the essence of the personality that matters. And Priyanka has captured the soul of Mary Kom."