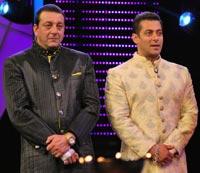 Coordinating Salman Khan and Sanjay Dutt's dates for Bigg Boss 5 has become a bit of an ordeal.

While Salman, who is busy shooting Ek Tha Tiger in foreign locations, has been flying to Mumbai every Saturday to shoot for the reality show, Dutt is grappling with his own dates issues.

The Munnabhai actor, who is shooting for two films simultaneously -- Ram Gopal Varma's Department and Anand Kumar's Zilla Ghaziabad -- will now have to take a day off every week from his film shoots to shoot for Bigg Boss.

Fortunately, the makers of Zilla Ghaziabad have decided to adjust their schedule and change shooting locations so that Sanjay Dutt can show up on Saturday at Karjat's Nitin Desai Studios for the shoot.

Interestingly, the rest of the cast members -- Vivek Oberoi, Arshad Warsi and Chandrachur Singh --

have agreed to shoot according to Dutt's schedule.

The ongoing shoot in Wai will now shift to Mumbai, closer to Karjat.

Producer Vinod Bachchan confirms reports, "Yes, Mr Dutt is very busy but he has been very co-operative and accommodating. Our next schedule from November 2 would be tight since Mr Dutt has to take Saturdays off to shoot for Bigg Boss and he doesn't shoot on Sundays. Everyone is willing to adjust. Our next schedule begins on November 2 and continues for about a fortnight. It is supposed to be in extension to the last shooting schedule in Wai. But we might have to do the interior shot in Mumbai. It isn't really a problem."

A bigger problem awaits the Zilla Ghaziabad crew when Sanjay Dutt and the other cast members will arrive in Ghaziabad for shooting later. The crew anticipates a huge turnout of Dutt's fans.

Bachchan says, "We've avoided shooting in Ghaziabad so far for security reasons. But we'll have to shoot there for at least three days. Otherwise the people of Ghaziabad would take offence."