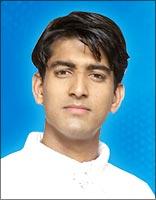 22-year old Sandeep is praying that the almighty keeps him relaxed for the finals of Indian Idol on April 22. "I want this time to pass quickly, to know my fate. I try not to think too much about the result. I am a bit nervous, and excited."
On April 22, Sandeep will compete with Karunya, who seems to be a favourite for the coveted title.
Speaking about how he landed up for the contest, he says, "The atmosphere back home is good for singing. My father and aunt both love to sing and have always encouraged me. We live in a joint family in Bikaner, Rajasthan, but I have been in Mumbai for the past two years.
"I have been practicing for ten years now. For the first five years, I studied under a teacher close to home. Since then, I have been learning classical singing professionally. I like Rajasthani folk songs -- Maand songs and songs based on Bidai (sung when a bride is sent to her husband's home after marriage).
I have completed my Bachelors in Science from Bikaner. I was going to do my Masters when I got selected for Indian Idol, so I have taken a break for now. When I was selected, some relatives did express concern about my wasting time instead of studying. But this time, when I went home, they all hugged me and cried. They are very happy for me now."
Ask him how life has changed for him, and he says, "It has changed a lot. I have worked hard and learnt a lot here. We are practicing every moment, every day, for the finals. I am going to sing Sitaron ki mehfil from Kaho Na... Pyaar Hai, Ruk jaa o dil deewane from Dilwale Dulhania Le Jayenge, Raja miya chado yaari from Kahin Pyaar Na Ho Jaaye, and Gulabi aankhein jo teri dekhi from The Train.
I hope to continue being a singer, and work hard. I want to utilise the recognition I have got here, do stage shows, playback singing and experiment with different genres of music."
Sandeep says that some memories of the time spent here will always be etched in his heart. Of the experiences he enjoyed most was one when they performed at the Filmfare Awards. "To be performing in front of people like Amitabh Bachchan, Shah Rukh Khan, established singers and the whole film industry was memorable. So was recording the song Wooh Pehli Baar for Indian Idol, along with my co-contestants."
Who will be the next Indian Idol?

Before he signs off, he has a little note in Marwadi for his fans: "Aap sab manne itnoo pyar diyo aap sabro hardik dhanyavad. (Thanks a lot for giving me so much love).