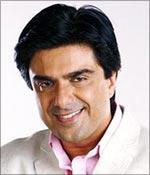 Samir Soni was evicted from Bigg Boss 4 after an argument with housemate Dolly Bindra. The actor seems to be deeply disturbed by his out of turn ouster, and it showed in this interview with Rajul Hegde.

Do you think Bigg Boss has been too strict with you?

Absolutely! I am hugely disappointed by Bigg Boss' decision. I am extremely hurt and feel cheated at being evicted. I still haven't got a satisfactory answer from the housemates about why I was evicted.

What exactly went wrong between you and Dolly Bindra?
I don't know how much of it was shown on TV. I was nearly assaulted by Dolly after I confronted her over her vulgar remarks towards Shweta (Tiwari). I didn't think it was wrong to stand up for a woman's dignity. I was shocked that none of the housemates moved an inch to when Dolly started abusing Shweta.
You looked upset with the Great Khali too.


Yes. I had great respect for Khali but I felt letdown when he pushed me to one side when I was trying to defend Shweta. I can't be a silent spectator like him. I had taken a stand for other housemates earlier too.


What was the most shocking thing about Bigg Boss?
Dolly! Everything was fine until she entered the house. She used foul language, brainwashed everyone, and there were more fights.
The most shocking thing was when Dolly started abusing Shweta and calling her a prostitute. I couldn't stand silently like the others so I intervened. It's a fight of ethics and morals. I will not back down from my stand.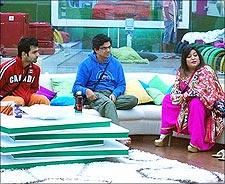 You were quiet earlier but slowly, you started cribbing behind everyone's backs. Why didn't you tell off people on the face like Dolly did?
If I felt something was wrong, I would discuss it with someone whom I was comfortable with, not with everyone. If you call that bitching or cribbing, I can't help it. I am from a different background; I can't stoop to Dolly's level by making a noise and using obscene words on national television. 
Given a chance, would you like to go back to the house?
Yes. But only on the condition that Dolly wouldn't be in it.
What made you take part in the show?
I was offered this show earlier as well. But somehow I couldn't take it up then.
When I got the offer this year, I thought it would be a good platform to test my character. I wanted people to judge me the way I am. The experience has taught me that I am a decent guy. I stayed long enough to realise there were no friends in there. I don't know what people saw on television. But I conducted myself with dignity and did not embarrass my family and friends.
Is Bigg Boss scripted?
I don't think so. I was not briefed on anything before I entered the house. How can the fights be scripted?
Do you regret that you missed out on spending time with Pamela Anderson?
Not really. I didn't have any major attraction for her. But yes, it would have been nice to interact with her and get to know her as a person and her thoughts about our country.