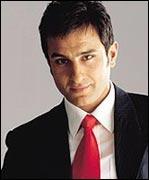 Saif Ali Khan was holidaying and visiting lady love Rosa's family in south France when he learnt about his Best Actor National Award for Hum Tum. 
"My career has done an about-turn after Hum Tum. And now, the National Award. I don't believe it! As my sister Soha rightly said, it's not that I wasn't being taken seriously as an actor -- I was, after Dil Chahta Hai and Ek Hasina Thi -- but such light-toned films are never taken seriously. I always thought it was the so-called serious roles that were taken seriously."
In the same breath, Saif says doing Hum Tum wasn't easy. "The role was a series of dialogues exchanged in a bantering cascade. It was like Rani (Mukerji) would throw a barb at me, and I'd throw it right back at her, and it went on like that. At times, I'd wonder what the heck Yash Raj Films were up to! I should've known better. They always know what they are doing. But how was anyone to know Hum Tum would turn out the way it did? I must thank Rani for being such a wonderful co-star. I must say it feels strange to have her get all the popular awards while I get the National Award!"
'Sharmila helped Saif win award?'
Saif is also surprised. "Isn't commercial cinema generally regarded as a no-no for National awards? Hum Tum is as commercial as it gets!"
He admits to feeling a lot of discomfort about the way the popular awards went this year. "Filmfare's Best Actor in a comic role didn't make me happy. I was far more okay with the other popular awards where I was nominated in the Best Actor category. So what if I didn't win? At least I got nominated in the right category."
The actor finds the National Award so early in his career very "cool."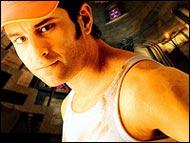 "It's quite something though it hasn't really sunk in yet. I really like what jury head Sudhir Mishra said about my performance -- light and yet full of surprises. One doesn't really know whether one is going right with the performance until a recognition like this comes along. Am I going to get more serious about my career? Who says I wasn't serious otherwise?"
Then as an afterthought, he adds, "Hey, has Mr Bachchan won the National Award? He has? Good. Next time I run into him, I can wink at him."
"Now, I have Yash Raj Films' Salaam Namaste, which again is very light in tone. You think the National Awards would try to prove a point again next year or am I pushing it?" Saif chuckles.