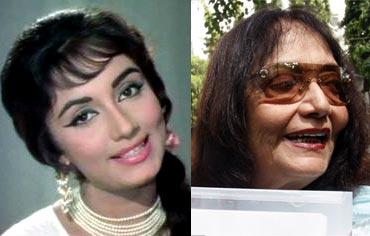 Veteran actor Sadhana, who has always shied away from the limelight after her retirement from films, made a rare appearance yesterday to meet Maharashtra Home Minister RR Patil over a dispute between builder Yusuf Lakdawala and herself over a property issue.

The actress had earlier accused Lakdawala of pressurising her into vacating her Santa Cruz home. She even claimed that he had threatened to kill her.

Sadhana resides on the ground floor while Lakdawala lives on the second floor.

Following her complaint, Lakdawala was arrested and later released on bail. Lakdawala later filed a defamation case against the actress.

Sadhana was a huge name of the 1960s with hits like Mere Mehboob (1969), Woh Kaun Thi (1964), Mera Saaya (1965), Anita (1968), and Waqt (1965).

In the late 1960s, Sadhana quit acting due to her thyroid problem.

She made comeback in the late 1960s and delivered hits like Inteqaam (1969), Ek Phool Do Mali (1969). She acted and directed Geeta Mera Naam in 1974, which became a hit.

She retired from acting as she wanted her fans to remember her as a young and beautiful woman.
Sadhna's photograph (right): Sahil Salvi