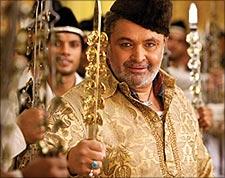 Rishi Kapoor fielded questions from the media about his turn as Rauf Lala in Agneepath in New Delhi recently. Here's what he said.

Rishi Kapoor, the 'chocolate' hero of the phenomenally successful Bobby, that was a hit many moons ago, gets quite upset when he is reminded of this description of him.  

"Please do not use this word," he pleaded with women journalists at a press interaction at the Press Club of India in Delhi that was organised to celebrate his powerful role in Agneepath as Rauf Lala, a meat shop owner.

He was asked how he liked the transformation from leading actor to a side-kick of Sanjay Dutt, who played the villain Kancha Cheena in the film.
"The transformation from the lead role to a character actor (he detests being called a villain) is a natural process. It has happened with me now just as it happened to many others before.
"I must add that I thoroughly enjoyed playing the negative role of Rauf Lala. I told Sanju that if the picture flops, then he would have to take the blame because I was playing the role of a side-kick!" Rishi laughs.
He admitted that at one stage he had refused to do the role as he felt he could not act in a negative role.
"I was not convinced I would be able to do it justice. Karan Johar called me up and asked me not to refuse the role, so I decided to take a screen test. In my 45-year-long career I have never taken a screen test because I was working with my father the great Raj Kapoor. After the test I was satisfied that I would be able to play the role," he says.
Asked why the family was not making films under the historic RK banner, Rishi said they were going to do so, but there would be no remakes of Prithviraj and Raj Kapoor films.
"There is no way one can remake Mughal-e-Azam. What my grandfather did, we cannot even think of emulating. The film is a legend and we should leave it at that," he says.
When his attention was drawn to a statement by actor Pran that the one role that he would want to do is that of Chanakya, architect of Chandragupta Maurya's empire, Rishi Kapoor made it clear that he has no such role in mind.
"Pransaab was a great character actor. What he has achieved as an actor, I cannot think of achieving even a part of it. If he wants to play the role of Chanakya, he will be able to do justice to the role with his experience and passion for acting," he says.
He lamented the fact that a shortage of good new stories was forcing both Hollywood and Bollywood to go in for remakes of earlier films.
Would he return to films as a hero? Rishi replied that it was difficult enough to make wife Neetu Singh agree to do Do Dooni Char, and that she would do another film with him is an unthinkable proposition.