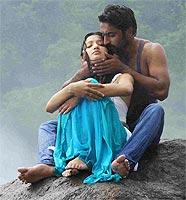 Paresh C Palicha advises against Malayalam film Vaadamalli. Post YOUR reviews here.
The scariest thing about watching a film is not being able to grasp the plot. You get the feeling that you may have dozed off somewhere in between.
From the beginning of this year, we have seen Malayalam films telling stories from multiple points of view, repeating the same shot several times from different angles and even in different hues. It is enjoyable if it is done once in a while or if the subject really demands it. But it is nerve-racking when it is used to tell a simple 'boy meets girl on the college campus' kind of story, as in
Vaadamalli
, directed by
Alberrt Antoni.
The story, credited to the director himself, is as old as human civilisation. Rich girl meets poor boy in the college. Girl is smitten by the boy. But the boy, being a pragmatic, level-headed chap, takes her to his home so she can see where he comes from -- a slum on the beautiful backwaters of Kuttanad. The girl does not back out.
The film is also peppered with typical villains, rich drug pedlars, possessive lovers, drug addicts etc. To add to this, we have the abuse of cell phone cameras in a women's hostel and other such ingredients of a typical campus story.
The script, developed by Laser Shine and Rajesh Varma, complicates matters so much that it is very tough to sit through the film. There is some semblance of sanity in the narrative style in the second half. But what can be more surreal (or downright absurd) than the villain playing the violin in a police interrogation room with a stern officer as audience?
The actors are mostly little known, so maybe one should not be overly critical of them. Suffice it to say that all the three main leads -- Richa Panai as Vrinda, Rahul Madhav as Vasu and Ramesh Raveendran as Sandesh -- have a good screen presence and put up a good show.
On the whole, Vaadamalli is, to put it mildly, inane.
Rediff Rating: