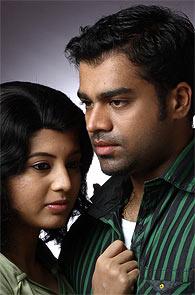 Malayalam film Radio Jockey isn't Rajasenan's best film, feels Paresh C Palicha.

Rajasenan was one of those directors who had the power to draw audiences to theatres with his family entertainers.

In recent times, he has been grappling to find a new idiom for his films to suit the changing times. Unfortunately, he seems to have hit a creative nadir.

His new venture, Radio Jockey, has an enticing title and the film even has a contemporary feel, but it is tacky and graceless.

If Rajasenan's previous film Oru Small Family had hit the bottom of the pit, Radio Jockey makes that pit deeper. The director tries to do to FM stations what other directors have done for the software and IT industry.

The story meanders all over the place after beginning in a small private radio station. It looks like the director is not sure what he wants to convey.

A star radio jockey returns to her work after a gap of some years fighting a terrible disease. Kanmani Karthu (Nimisha Suresh) had a large fan base. Fisherwomen, auto rickshaw and taxi drivers stop work to listen when she comes on.


Kanmani fought and won the battle with cancer (justifying the odd wig she is wearing). She gets a very heartening welcome with fans crowding outside the radio station by the time her programme comes to an end.

There's rivalry now between Kanmani and Balu (Arjun Nandakumar) who had filled in for her when she was away. He has become the star RJ of the station. Initially he comes across as egoistic and lecherous. Then he confesses his love for Kanmani and says he respects her because his mother is also suffering from cancer.
Kanmani is offered the lead role in a film directed by Madhupal. This forms the basis for another rift between her and Balu. Eventually this is solved and they decide to get married.

On the big day, Balu vanishes.

By now one is confused and wondering where this story is headed. The director, who is also credited with the story, seems to be just adding situation after situation without knowing what he intends.<

The less said about production values, casting and performances, the better.

Final words, Rajasenan hits another low point in his career with Radio Jockey.

Rediff Rating: