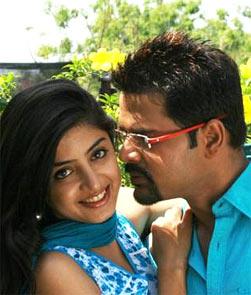 Tamil film 6 Melugu Vathigal isnot gripping enough to draw the viewers in, according to S Saraswathi.

Shaam starrer 6 Melugu Vathigal, directed by V Z Durai of Mugavaree fame, is a sad and gloomy story about the flourishing child trafficking problem in our country.

The film shows how your perfect world can shatter in seconds and, what is worse, you can do nothing about it.

Popular hero Shaam plays the main character with Poonam Kaur as the female lead. Others in the cast are Jagathy Sreekumar, Archana, Anil Murali, Munnar Ramesh and Narayan.

The film is produced by Studio 9 Production and has music by Srikanth Deva.

The film opens in Kolkata, where we are introduced to a haggard, exhausted and unkempt Ram (Shaam), who is lying unconscious in a ferry. As the camera pans to his face, there is a flashback to happier times, when Ram is a software engineer with a beautiful wife Lizzy (Poonam Kaur) and an adorable son, Gautam.

They have a beautiful home, good friends and life just seems to be perfect. It is Gautam's sixth birthday and after a grand celebration with friends, the family decides to take a trip to the beach. And it is here that their perfect world turns upside down.

Shaam goes to buy water for his thirsty son, and Lizzy turns away for a second to bargain with a flower vendor, who is forcing her to
buy some flowers. And just like that, within the blink of an eye, Gautam disappears.
After hours of searching, the shocked couple rushes to the police station to register a complaint. The police are no help at all. They merely escort the couple to a lame beggar who they believe has information of all the illegal activities in the area.
Thus begins Ram's long and painful journey across the nation to find his lost son. The beggar leads him to a pimp, who in turn leads him to a repulsive butcher, from where he is sent to meet a powerful rich businessman with the right contacts, and so on. The chain of people involved seems endless.
The hunt for his son takes Ram to different cities across the country, where he discovers how innumerable innocent children are sold, abused, ill treated and made to work in inhumane conditions.
Months pass by, but the situation just seems to get more and more hopeless.
Shaam has given a good performance as the desperate father. The supporting actors have done their bit. Poonam, however, has been sidelined after the initial scenes.

6 Melugu Vathigal
has an interesting storyline, but is not gripping enough to involve you emotionally. Even the dialogues lack depth and intensity. Shaam seems to mouth the same dialogues over and over again.
The story could have been handled with a little more sensitivity to make it more memorable and moving.
Rediff Rating: