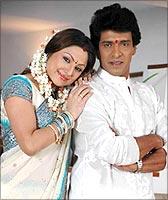 Shruti Indira Lakshminarayana feels Kannada film Shrimati is a must watch for Priyanka fans. Post YOUR reviews here!
It's more usual for women employees to be asked to provide sexual favours in return for a promotion, but it can happen to men too. But when the man has a protective spouse, he need not worry too much. That in a nutshell is the plot of this week's release
Shrimati
, directed by Ravi, in which Upendra plays the hapless husband to whose rescue comes his real-life wife Priyanka.
For Raj (Uppi) and Priya (Priyanka) it's love at first sight. They get married and begin to live happily ever after. Raj's promotion to his company's board of directors only adds to the couple's picture perfect life. But is it Raj's hard work and sincerity that got him the promotion or his boss's wife, Soniya Roy (Celina Jaitly)?
Shrimati looks at how employees are tempted with plump posts
in return for sexual favours, and the twist in the tale is that women can also take advantage of their power and position. If you've seen the blockbuster Hindi film
Aitraz
, the plot will sound familiar. The Hindi film created a few ripples because of the 'bold' scenes between Priyanka Chopra and Akshay Kumar, and there's enough of a skin show by Celina for
Shrimati
to do the same. The dialogues and comedy are more likely to suit the taste of front benchers.  
The first half drags a bit but picks up pace after Telugu actor Kota Srinivas takes centre stage. Priyanka's acting in the second half proves that despite a long hiatus from Kannada films, she has not lost her talent. In fact, this
shrimati
surpasses her husband's acting in this film. Celina is convincing as the scheming opportunist model. It is the leading ladies who will walk away with the honours in this film.
Veteran actors Prem Chopra and Sayaji Shinde are wasted, and the dubbing only adds to their unimpressive characterisations. The songs are forgettable.
Rediff Rating
: