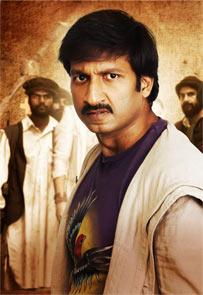 Radhika Rajamani says Telugu film Sahasam has good action sequences and gripping treasure hunt sequences especially towards the climax.

If the trailer of Sahasam was interesting and gave a peek of what lay in store, director Chandrasekhar Yeleti has gone far beyond in crafting an intriguing and engrossing action entertainer. He has explored a concept of finding a lost treasure -- a tale set in two time frames and executed it in an absorbing and exciting fashion.

On the surface, Sahasam may seem like a tale you read in books -- the mystique of secret passages, clues, huge doors, ancient locks. Yeleti unfolds this on screen and the treasure hunt is fascinating and noteworthy. Aided by his fine technicians, he is able to create an exciting and gripping film.

Gautham (Gopichand) is a guard with the Garuda Security Agency and dreams of becoming a rich man. He buys lottery tickets, listens to 'godmen'. One day when it rains and his roof caves in, he stumbles across a bag with interesting contents like an old tattered notebook, a will, a chain with garuda pendant, a small button etc. Gautham realises it is his grandfather's. While reading the notebook, he comes to know his grandfather was a jeweller in Peshawar who had to escape during Partition. While running away, he left some diamonds for his son with some details. This prompts Gautham to make a trip to Pakistan.

Sreenidhi (Taapsee) is a devout girl visiting and praying at different temples. She wants to visit the Hinglaj Devi shrine in Pakistan. So, the two embark on the journey. After landing, they find that an archaeologist is in search of the Kushan empire treasure which is valuable and worth a lot of money. He finds objects related to the key to the treasure after reading about them in a book through excavations. He is searching for the main clue but is killed.


Sultan (Shakti Kapoor), a militant, also wants that treasure. Will Gautham be able to overcome the obstacles to reach his goal of recovering his grandfather's diamonds?
The story is set in Partition time (1947) and later moves to 2013. The Partition scenes are just a few and the main story is set in contemporary times.

Since it's an adventure tale, there's a lot of action and more so since there's a militant Sultan and his henchmen to contend with. The action sequences are well orchestrated though they are gruesome at times and hard to view. The landscape of Ladakh is well used for this.

Different terrains come in handy for filming various sequences right from Buzkashi to jeep chases, fights etc. The treasure hunt sequences in the last 40 odd minutes are worth a watch. It's like getting into a maze or a web and getting out of it. The set is well made to suit this and the excellent computer graphics really enhance the viewing pleasure. This last bit makes for edge-of the-seat viewing.

Chandrasekhar Yeleti tends to come up with novel themes or ideas. In Sahasam, he has taken a concept of a treasure hunt which has not been seen in cinema for some time. He blends history, reality, fiction with a good dose of adventure and thrill which engages the viewer. Also, he imparts an ancient-medieval look to the film in the parts where it is necessary be it through sepia-tint, patina, cobwebs, etc which lends a certain authenticity.

However, in Pakistan, he has the locals talking in Telugu which seemed out of place and inaccurate.

Yeleti has been able to get the best out of his technicians be it his writing team, cinematographer Shamdat, editor Kotagiri Venkateswara Rao, music director Sri or art director Ramakrishna. Shamdat's camera is top-notch.He shoots the action sequences and the treasure hunt, especially towards the climax excellently.

Ramakrishna's art work, especially the set used for the climax, is commendable. Sri's background score was apt for this kind of a film. Kotagiri Venkateswara Rao's editing was fine too.

Gopichand carried the film ably on his shoulders showing the necessary emotions. Taapsee has done well in the film especially in certain sequences like the Buzkashi. Shakti Kapoor plays the menacing don to perfection. Ali doesn't have much to do.

Chandrasekhar Yeleti should be complimented for making such a different and engrossing film . Sahasam is certainly worth a watch!

Rediff Rating: