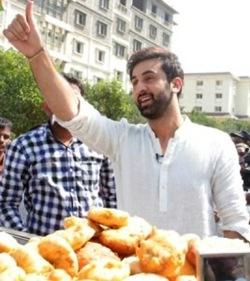 Mission Sapne on Colors offers little in terms of novelty, says Nishi Tiwari.

Starting this Sunday, April 27, Mission Sapne -- a charity-based show featuring Bollywood A-listers like Ranbir Kapoor, Salman Khan, Karan Johar among others -- joins the long list of reality shows on Indian television.
Airing on Colors and hosted by actress Sonali Bendre, Mission Sapne was promoted as a reality show with a difference -- big stars with notoriously busy schedules take some time out to raise money for people in need.
But the bigger positioning was, we were told repeatedly, that said stars would spend a day as common people, doing jobs common people do to earn a living.
The first episode features 10-year-old Sunita Ingle -- a Cancer patient -- and her family that is desperately trying to raise money for her chemotherapy.
Ranbir Kapoor, who features as the first fund-raising star on the show, swoops in and charms the whole studio like only he can and promptly proceeds to selling vada pavs at DY Patil college in Pune.
Only he descends on the dusty premises in a helicopter.
So much for stars holding a humbling job and the thrill of watching it.
The crowds gradually go out of control even as RK patiently doles out vada pavs and graciously accept whatever people are willing to pay in exchange for the food and a picture with him.
He is as at ease with the crowd as he is in the studio with Sunita and her twin sister Anita.
Back in the studio though, Sonali Bendre, in a first as a show host, is slightly out of sorts and inconsistent.
In her defense, she does try to be the forthcoming, warm host the show needs but proves inadequate in more than one instance.
Both she and Ranbir have an 'Aamir on Satyamev Jayte' moment (remember how sometimes, AK would make that incomprehensible face when he wasn't sure of how to process certain information?) when the cancer-stricken girl's father relates his family's ordeal and the little girl breaks down briefly.
Few of us have escaped the thrill of reality television and rightfully so. Well, in some cases anyway.
But what exactly is the point of a show for charity where stars only make a half-hearted attempt to just have a too-brief-to-register brush with a common man's life?
Maybe it'll take more than a few episodes of Mission Sapne to figure out the answer to that one.
Or maybe TRPs will answer this one for us.

Rediff Rating:



Image: Ranbir Kapoor on Colors' newest reality show Mission Sapne