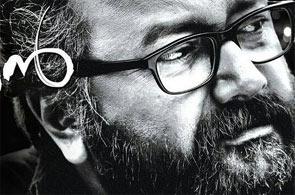 Jayaram who plays the protagonist in Nandan is the only saving grace in the film, which is otherwise ends up just being another film, says Paresh C Palicha.

Veteran director Kamal delves into the life of a professional theatre actor who believes that the theatre will bounce back to regain its former glory one day, in his new film Nadan – The Actor. Jayaram plays the protagonist.

Theatre once upon a time was the harbinger of social change in Kerala and people working in it were stars. The advent of cinema and then television spelled doom for the theatre. Stages outside temples and churches where dramas were performed were now used for mimicry shows.

Sargavedi Devdas (Jayaram) is the inheritor of this rich tradition and he remains loyal to it by running his drama troupe with a few old timers, resisting attempts to migrate to the more lucrative fields of film or television. He is the soul of the group--writing, directing and performing.

But theatre is a dying art and a financial crisis looms. Devadas has not produced anything new for many years.

The troupe has an office in a dilapidated building in the centre of the town where the members meet and relive
the golden era of their lives. Devadas even lives in the office as he has separated from his wife Sudharma (Sajitha Madathil) and his two daughters.
The first half gives the historical background and the rueful conditions in which the Sagravedi family lives. The second half is devoted to the personal life of Devadas, who was a famous star in the past but is fighting to survive from day to day.
We learn the reasons for the discord in his marital life - an extra-marital affair with a young actress, Jyothi (Remya Nambeesan), who was his inspiration, yet left him for the lure of films. This eventually led to his writer's block.
Jayaram is the fulcrum of the film as the middle-aged artiste who has lost his bearings. He is surrounded by a huge ensemble cast that has KPAC Lalitha, P Balachandran, and Joy Mathew.
Sajitha Madathil is subdued as Sudharma, the wife, especially after her enchanting performance in
Shutter
which is still fresh in our memories. Remya Nambeesan lacks the sparkle that the script requires of someone who inspires Devadas to write a new play.
Nadan
ends up being average and fails to impress.
Rediff Rating: