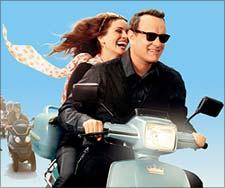 Aseem Chhabra feels Larry Crowne is Tom Hank and Julia Roberts' non-love story. Post YOUR reviews here!
Can Tom Hanks do anything wrong?  For the longest time the answer to this question would have been no! In 1996 Tom Hanks directed his first film,
That Thing You Do!
-- a sweet little film about a rock band formed a year before the Beatles took America by a storm.  Hanks turned 40 in 1996.  He had two Oscars under his belt (
Philadelphia
&
Forrest Gump
).  He was the voice of Woody in
Toy Story
, everyone's beloved Forrest Gump and the romantic widower, who won the heart of Meg Ryan at the end of
Sleepless in Seattle
.  Everybody loved Hanks. Was there really anything not to like about him? 
Fifteen years later Hanks has become a Hollywood Mogul, producing films -- many of which we do not associate him with (
Where the Wild Things Are
,
The Ant Bully
), executive producing others (
Mamma Mia! The Polar Express
) and even lending his name to cable TV series (
Big Love
,
From the Earth to the Moon
).
So let me address the question that I asked at the top of this review.  Yes, I believe even a star and a genuinely well-liked Hollywood personality like Hanks is capable of doing something wrong.  His new film --
Larry Crowne
(his second effort at directing after
That Thing You Do!
), does not work, and begs the question, why did he have to make this film? 
Larry Crowne
is mostly not funny.  It is not a comedy, it is not a drama, and it is not even a love story.
Did we really need a Hanks-Julia Roberts non-love story for the summer of 2011?  The two stars have never done a romantic film together (they have only shared screen time one time in Charlie Wilson's
War
) and so far no one has measured their chemistry (or lack of it) on the screen-sizzling meter. 
This much is clear -- whoever planned this big Hollywood pairing (Hanks – the director, or producer or writer, or his co-writer Nia Vardolos, or any of the other seven producers/ executive producers on the film) made a very wrong artistic and business decision.  Hanks and Roberts are so not believable together. 
To top it -- both Hanks and Roberts seem tired in the film. He is 55 and she is 44.  That's not old age for Hollywood actors.  Clint Eastwood gave us his most romantic performance in
The Bridges of Madison County
, when he was 65 years old. 
In
Larry Crowne
, Hanks' and Roberts' characters lack a natural instinctive energy.  The stars are disinterested in the roles they play.  The lightening and camerawork does no justice to their star aura or their reported charm, which seems to have vanished, at least for now.
Perhaps the problem is with the script.  Vardolos is the woman with the golden touch whose cheesy script --
My Big Fat Greek Wedding
,
resulted in one of the biggest box office surprises in the history of Hollywood.  Hanks produced that film too. It cost $5 million to make and earned over $360 million worldwide. 
Unfortunately like in
Wedding
,
Larry Crowne
's characters are not very complex and they lack surprises. Crowne (Hanks) is a very eager employee of a large store who gets laid off as part of a downsizing plan. The excuse given to him is that he does not have a college degree.  He is shocked to learn that the years he spent as a cook for the US Navy do not count as real education. The rest of the film has Crowne reinventing himself as he joins a community college, and quite smoothly sheds his nerdy personality (a man who tucks in his polo-shirts, and wears polyester pants) for a cool guy who starts to dress in black, rides a scooter with a group of hipster students, who are less than half his age, and is attracted to his highly cynical and jaded speech teacher, Mercedes Tainot (Roberts).
Crowne's transformation reminded me of the Shahrukh Khan's character in
Rab Ne Bana Di Jodi
.  We can make excuses for Bollywood, since it is often so unreal.  But one usually expects more realistic, believable characters and plotlines from Hollywood.
Roberts stole our hearts in
Pretty Woman
with her wide smile and hearty laughter.  But she's never been a substantial actress, despite her Oscar win for the playing the lead in
Erin Brokcovich
.  The roles she gets and her performances, including last year's hit Eat, Pray, Love, seem to rest more and more on her bubbly cheerful personality and that smile, which is no longer a novelty.
Even in days of films packed with superheroes and 3D technology, Hollywood still counts on its star system.  Stars like Will Smith, Denzel Washington, Russell Crowe, John Travolta, George Clooney, Angelina Jolie and even the multiple Oscar nominated Meryl Streep are all expected to deliver big time. 
Larry Crowne
shows that some of the biggest stars have their limitations. So a star's genial disposition and a pretty woman's wide smile cannot save an unimpressive script.
What works in
Larry Crowne
are a few situations with its large supporting cast.  There are moments of light laughter with George Takei (Sulu from
Star Trek
) as Dr. Matsutani, who is Crowne's economics professor and Rami Malek, as Steve Dibiasi one of the students in the speech class.  But like in any mediocre sit-com, these moments do not add up to the plot of the film. So why did Hanks direct a film again?  I presume he was bored with everything else he does in his professional life and needed a challenge.  In which case why did he make such a drab and boring film?
Rediff Rating: