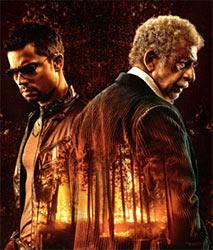 John Day's music may not play for months but fits in well with the context of the film, feels Joginder Tuteja.

One didn't really expect a musical score for John Day.

After all, the film has been promoted as a song-less affair, which is basically an edge of the seat thriller.

However, the film has a soundtrack, albeit just for promotional reasons since they will not be included in the narrative.

It is a good start that John Day enjoys for itself, what with the band Strings coming up with Charon Taraf. Though at the core of it this one is a sad song, the way it is written, composed and sung makes for a compelling hear that makes one place it back in a repeat mode.

A soft outing which goes well with the theme of the film, it may not be the kind of song you want to play on a happy day. However, from the perspective of the film, it is a good inclusion.

Aditi Singh Sharma, who has been consistently doing well as singer during last couple of years, gets all husky and aims at throwing a punch with Kis Lamhe Mein.
Yet again, this one is a dark outing (in accordance with the theme of the film) though the composer in charge in Kshitij Tarey. If one closely hears Sayeed Quadri's lyrics here, there are some strong hints thrown around what the film's plot has to offer.
Later, Kshitij brings himself on board as the singer for the male version which, yet again, has a haunting feel to it with Western instruments doing the talking.

Though not the kind of songs that would continue to play on for months to come, in the context of the film they fit in well as they raise intrigue around how the proceedings in John Day would unravel.

Rediff Rating: