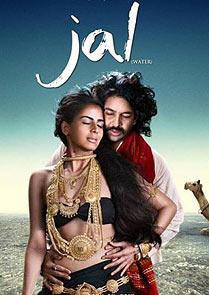 The Jal soundtrack has international appeal, and worth many listennings, promises Joginder Tuteja.

A film set in a desert location usually means music rooted in the Rajasthani/Gujarati folk idiom with the sound of Padharo Mhare Desh heard for the umpteenth time.

Just for avoiding this cliché, composers Sonu Nigam and ace tabla player/percussionist Bickram Ghosh deserve applause.

They have decided on a sound that gives Jal an international appeal. Western influences and intelligent mixing of Indian sounds gives a very good fusion mix.

There are 22 tracks in this hour-long album. Most are instrumental pieces that last for one or two minutes each. That's the soundtrack's strength along with four full-fledged songs.

The Shubha Mudgal sung title song Jal De makes the biggest impact. It starts off on a sombre note, and gathers pace as it proceeds. There's a haunting quality to it that lingers.

Jal De plays for nearly seven minutes and can be expected to appear intermittently in the film's narrative.

Ambarish Das sings Paani Si Behti Jaye, a semi-classical number. Das's sober rendition is the core mood of this song that lasts for just two minutes, though one wishes it was longer.

You Fill My Life has the sound of ghunghroos in the background, and the manner of singing, pace,
styling and overall setting has some twists and turns.
Ustad Ghulam Mustafa Khan is first heard faintly and then the song takes a Western turn once Suzanne comes on the scene. She is wonderful as always and her voice is soothing to the ears. The number has an international sound and one waits to see how it is used in the film. Excellent!
Last to arrive is the man of the moment, Sonu Nigam himself, with
Zaalima
. With the kind of start reminiscent of an R D Burman score, the song has a retro appeal.
A few seconds into the song and things change. Sonu sings in a style that is totally different from the manner in which he approaches his Bollywood songs.
Zaalima
has a thrilling feel and is an engaging number.
Though percussion holds centre-stage in most of the songs heard so far. Bickram Ghosh goes all out once he gets to compose for the 18 instrumentals along with Sonu Nigam.
There is a place for each and every mood or character through a distinct sound and together, the
jugalbandi
between Sonu and Bickram is indeed exciting enough to deserve many listenings.
Snippets of The Water Ritual, Anger
and
Chase
have been part of the promo and have managed to leave an impression. When heard in their entirety, they impress all the more.
This is not a quintessential Bollywood soundtrack. It avoids the clichés and for that Sonu Nigam and Bickram Ghosh must be congratulated.
Rediff Rating: