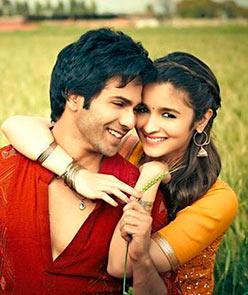 One expected a lot from the Humpty Sharma Ki Dulhaniya soundtrack. What one gets is just a couple of good numbers, writes Joginder Tuteja.
Karan Johar's next production Humpty Sharma Ki Dulhaniya looks quite youthful, and stars Varun Dhawan and Alia Bhatt.
Music composers Sachin-Jigar and Sharib-Toshi score the music while Irshad Kamil and Kumaar are the lyricists.
The foot-tapping Saturday Saturday creates the right mood for the soundtrack at the outset. It's likely to be very popular with the younger crowd.
Indeep Bakshi and Badshah bring in the right naughty element to this club track. It is an adaptation of the namesake song by the two which had made waves a couple of years ago, but it still sounds fresh. Especially with Varun and Alia and Akriti Kakkar joining in behind the mike.
The next number Samjhawan is also an adaptation. It picks up from Rahat Fateh Ali Khan's Main Tainu Samjhawana Ki that released four years ago.
Familiarity with this love song with a hint of pathos works in its favour. It is sung by Arijit Singh and Shreya Ghoshal. One wonders why the original voice of Rahat Fateh Ali Khan wasn't retained. It could have worked better since the song is still fresh in one's mind.
The title of the next song, Daingad Daingad, is mystifying. Turns out it's just fun slang.
The number tries to be energetic with a horde of singers coming together -- Divya Kumar, Akriti Kakkar, Pratibha Baghel, Deepali Sathe and Niharika Sinha -- as well as veteran singer Udit Narayan. But it doesn't rise above the average.
There is a shift in the music with the Western sound of Lucky Tu Lucky Me. The song aims to step into the Pritam mode but ends up being a quick-fire dance mix version.
The song is not bad by any means. It has a good pace. But if it was trying to be like Badtameez Dil, then it has failed to even head in that direction. Benny Dayal and Anushka Manchanda are the good things about this track, which could become popular if supported by good choreography and picturisation.
One can't say the same about Emotional Fool, which is a Sharib-Toshi outing. With lyrics that go Yeh dil mera sajna emotional fool hai it is too slow moving to be a dance number.
Again, it's not bad; it just doesn't immediately qualify for an entry into one's playlist.
In the last number, D Se Dance, Vishal Dadlani takes centre-stage. He is joined by Shalmali Kholgade in this Punjabi flavoured number.
Anushka Manchanda joins the duo in this Sachin-Jigar number which appears as just another routine Dharma Productions outing. It maintains the overall flavour of the album, but in itself it is just average.
One expected a lot from the Humpty Sharma Ki Dulhaniya soundtrack. What one gets is a couple of good numbers.
Rediff Rating: