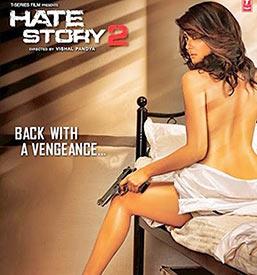 The music of Hate Story 2 does well for its space and setting, notes Joginder Tuteja.
The soundtrack of Hate Story did not make waves and the makers wanted the sequel to do better.
They have roped in multiple composers and lyricists and have a remix version for each of the four numbers.
At the outset, there is nothing striking about the new version of Aaj Phir. Composer Arko (who writes the lyrics along with Aziz Qaisi) has turned around this Lakshmikant-Pyaarelal composition. Except for the mukhda portion, it is nothing like the original. However, as one hears the number repeatedly, it does grow on one.
Arijit Singh does a good job in this cover version.
Newcomer Samira Koppikar gives a good account of herself. Her voice is different from the rest of her ilk. The remix version is more engaging and will be popular in a lounge setting.
Composer Rashid Khan joins hands with lyricist Tanveer Ghazi for Kabhi Aayine Pe Likha Tujhe, which has its roots in the Pritam brand of music. There is no direct lift or copy of any of the songs heard before.
Also, it is good to hear KK, as the ever reliable singer comes up with yet another spirited rendition. He does very well with Kabhi Aayine..., another number that improves with repeated listening.
Khushboo Grewal is the voice for Sunny Leone in Pink Lips. The song appears to be really gimmicky to begin with, but one gets into the rhythm of it though it's not as catchy as Khushboo's last song, Baby Doll.
This Meet Bros Anjjan composed song with Kumaar as the lyricist will probably make more of an impact when it is picturised on screen
Finally arrives the man who can't be left out of any major musical today -- Mithoon. The composer/lyricist and his steady singer Arijit Singh come together for Hai Dil Ye Mera.
It is yet again apparent that there are many more melodies that this team will be delivering in future.
The song is set in Aashiqui 2 mode which means that even though it isn't another Tum Hi Ho or Galliyan, it does its job well and fits into the soundtrack.
The music of Hate Story 2 does well for its space and setting. More so since the film is supposed to be an erotic thriller and one doesn't expect great melodies from that genre.
Rediff Rating: