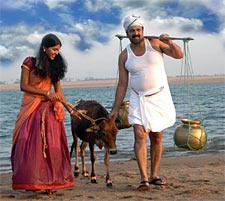 Paresh C Palicha says Ente has several holes in the plot that better remain unmentioned.

Rajeev Touchriver's Malayalam film
Ente
deals with a father-daughter relationship that turns into a story of human trafficking with the father and daughter getting entangled from opposite sides.
Sreenivasan (Siddique) and his daughter Durga (Anjali Patil) share an unusually strong bond. She calls her father onto the stage when she is felicitated for topping her school exams and gives him the credit for her success.
He is very possessive of her. Durga is an activist fighting against abuse of women. It is hinted that she inherited this trait from her father who is said to be running an NGO for women in his village and finds them jobs.
Her parents find Durga a suitable match (Rathnasekhar Reddy) who along with his mother is progressive enough to allow his bride to continue studying after the marriage which is fixed for a future date.
When Durga gets a call from a Hyderabad college to appear for
an interview, her father is out of town. Her mother takes the initiative and puts her on the train to Hyderabad and tells her husband to pick her up from the railway station.
In between we get to know that Srineevasan is actually running a brothel in Hyderabad and gets very worked up when he hears that his daughter is coming to the city.
We could have accepted the outlandish twist in the tale had it had been done aesthetically. But really, the film tests a viewer's patience here.
That is not all; most of the dialogues in the crunch moments are uttered in Telugu with subtitles in Malayalam appearing below the screen at lightening speed that robs the viewer of whatever interest she/he has in the film.
There are several holes in the plot that better remain unmentioned.
Siddique claimed to be doing the role of a lifetime in this film but we see nothing unusual in his performance. The rest of the cast better be left alone.
The same can be said about the film as it is not enlightening nor stirring.
Rediff Rating: