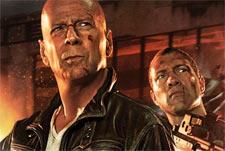 Shubir Rishi feels that A Good Day to Die Hard is eminently watchable, but the stupendously weak script lets it down.

While watching Bruce Willis in A Good Day to Die Hard, I could not help but remember the one liner that Dharmendra mouths in Johnny Gaddar -- It is not the age, it is the mileage!

Without any doubt, the Die Hard series is one of my all-time action favourites. The first film took my breath away, but then it was 1998, and anyone with a loaded gun excited our lot back then. And then the sequels started getting better and better.

So in preparation, I spent the last couple of weeks reliving all the previous instalments, and got my knickers in a bunch in anticipation of the latest episode.

So well, I had expectations. Yes, Willis is still thumping the hell out of a truck load of bad guys and sending them home crying 'uncle'. Yes, he is still blowing stuff up the good old John Mclain way. But something is missing. This is somehow, to put it bluntly, forced.

True, at 56, Willis still has got the pizzazz and the right attitude and that seemingly permanent scowl, but it does seem like he simply did this one because of three reasons:
1. He is John McClane (to the uninitiated, that is Willis' name in the series).
2. No one else would touch this instalment simply because it is directed by the same person who royally botched up the movie on the rather magnificent game -- Max Payne.
3. EGO.
And Willis is down for it, in his comfort zone. He is still bulletproof. He emerges unscathed from unaccounted for car crashes and fireballs. Bullets seem to ignore him in their path (in slow motion). Hell, he is nearly the goddamned Terminator and Batman rolled into one! And he is still mouthing off those sarcastic one-liners and catchphrases that will get you all mushy with nostalgia.
Bruce Willis may not be showing his age yet, but the series sure is. In Mclain's own words, something stinks.
To give away some of the plot, John meets his estranged son (oh yeah, forgot all about him, didn't you!) Jack (Jai Courtney, underwhelming) who is, of course, a CIA operative and the father and son must put their differences aside and work together towards some spectacular cinemagicaction sequences.
Now, as an avid movie watcher, it is not too difficult to realise the underlining father-son subplot. I suspect here, that it is merely serving as a potential pass-the-light in case the makers decide to put in another instalment.
Here is a quick Mclain factsheet: The old Mclain had few guns, some sort of suspense, fewer (but quirky) lines (that he did not have to scream at the top of his voice) and that still worked with audiences. And the bad guys were all not numbnuts. Above all, he was reluctant.
Since after the reboot he is brash, he has a load of one-liners, some of which still work, but somehow, he has turned into a comic-book character, which I think takes away the Mclainness. I may still be watching a slackjaw Rambo.
Honestly, I would have liked some heart in this movie. The father-son chemistry is not so bad, but you soon get used to it and start predicting the next one-liner, and succeed. The action sequences are beyond a doubt breathtaking, but the cartoonish feel is logic defying and leaves you wanting for, er, something solid.
Goes without saying that I will still watch it, on full volume, with a case of beer and cheering friend, when it comes out on DVD. Again.
In parting, I would want to watch another instalment please. Only this time, please bring us back the original John Mclain. I DO hope there is another one in the making!
Rediff Rating: