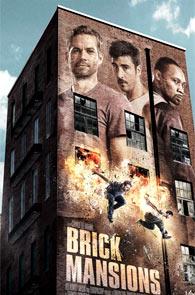 Brick Mansions never slows down enough to let you enjoy the brilliance of David Belle's liquid movements and never speeds up the story to keep you from yawning, writes Paloma Sharma.
You know what is the best part of little-known French films like District B13?
You can keep recycling that material over and over again.
Embarrassingly enough, even one of the actors, Parkour-expert David Belle, is recast in the remake, Brick Mansions.
Set in dystopian Detroit (Slim Shady fans, please sit down) in the year 2018, editor-turned-filmmaker Camille Delamarre's directorial debut Brick Mansions sees its highest point in the late Paul Walker, who stars as Damien Collier, passionate cop and passionate son-of-cop who is hungry to avenge the death of his honest policeman papa. Oh, and he does a little bit of police work from time to time as well.
However, when his father's killer, drug lord of the Brick Mansions (an area closed off by the authorities because they cannot control the rampant crime in it) Tremaine Alexander gets his hands on a certain government-owned object, Collier is sent undercover to retrieve it before it causes the destruction of millions of innocent people.
In order to successfully gain entry into the heavily cordoned off Brick Mansions and to find his way around, Collier must partner with Lino Dupree, a French-Caribbean criminal whose ex-girlfriend, Lola, has been kidnapped by Tremaine. One of the crimes that Lino has committed is killing a cop.
The two must find a way to work together if they want to achieve their objectives. Or they could end up losing everything.
It is rather ironic that a film coming from a former editor is edited so unnecessarily aggressively. A few scenes are quite literally just chopped off without a linkage to the next. Furthermore, the action keeps switching from too fast to too slow.
Belle's Parkour stunts are awe-inspiring. It would be lovely to be able to actually watch them instead of having things go whizzing past one.
David Belle, having had some practice from the original, fits well into the sometimes hilariously developed Lino, while all Paul Walker has to do is walk around with his blonde, blue-eyed good looks and 440 watt smile as he plays messiah to the underprivileged masses of Brick Mansions.
Rapper RZA probably has it the worst as Tremaine Alexander, the chief drug peddler of Brick Mansions who loves fast cars almost as much as he loves adding extra mirch-masala to his mummy's recipes. You almost always find him in the kitchen chopping peppers with a large, shiny cleaver and squeezing lemons into the cooking pot.
Ayisha Issa plays Rayzah, a particularly perverse henchwoman of Tremaine, who seems to walk around in gladiator-meets-50 Shades of Grey-like clothing and likes manhandling women. Why, one might ask? But here's a tip -- don't.
Brick Mansions features some pretty engaging action, even though it may seem like part of it was directed by Rohit Shetty.
The tragedy is that the film never slows down enough to let you enjoy the brilliance of David Belle's liquid movements and never speeds up the story to keep you from yawning.
The worst part of it is that Brick Mansions tries to be a socially aware film. It pulls a Kejriwal on you out of the blue in the last few minutes and gets all preachy about poverty (and implications of race) and crime, and the government's duty towards its people. You just want to hit your head with a brick by then.
Not quite at the level of the The Fast and the Furious franchise, Brick Mansions is somewhat laughable and entirely incomprehensible except for the action sequences.
Rediff Rating: