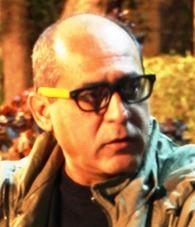 Ravi Rai, director of memorable television shows like Sailaab and Thoda Hai Thode Ki Zaroorat Hai, discusses his big screen debut and younger brother Aanand L Rai's successful films.

Raanjhanaa director Aanand L Rai's elder brother Ravi Rai is back in the limelight after ten years.

Remembered for television shows like Sailaab, Thoda Hai Thode Ki Zaroorat Hai and his deft handling of complex relationships in them, Rai is all set for his directorial debut after keeping a low profile for the past decade.

An autobiographical film on male-bonding titled Maya Vanilla and Strawberries, the film stars Ali Fazal, Namit Das (of Ghanchakkar fame) and Aman Uppal in lead roles.

When quizzed about what he's been up to during his time away from the director's chair, Rai says, "I've been trying to find a centre to my life.When I was doing television there was scope for much innovation. That is why we could do something as pathbreaking as Sailaab.

"But now everyone is doing the same thing. Big revenue has become the top priority and no one is willing to take risks. If I ever do television again, it'd be something that forces my audience to think about the quality of our lives."

But cinema, he feels, is going through a ferociously fertile phase.

"Movies are talking about sperms (Vicky Donor)

and sex. I think our cinema has discovered a new kind of freedom and is trying to find a way to use it well. It has given directors like my brother Aanand a chance to express themselves exactly the way they want to through their work," he says.

Rai is also very proud and happy for his brother's success.

"We live five minutes away from each other and work out of the same office. I always knew he had it in him. When Aanand made Tanu Weds Manu, I was thrilled.

"His female protagonist Tanu (played by Kangna Ranaut) was unlike any heroine I had seen on the big screen. She drank, was foul-mouthed and fearless. Ussko jo dil mein aata who bolti aur karti (She said and did whatever she felt like). That is the kind of freedom I wanted my female characters to have in my television serials. Now hopefully I'll find that through my movies."

Maaya Vanilla And Strawberries is loosely based on Rai's own life as a young student. Ali Fazal plays him in the film while Namit Das and Aman Uppal play his pals.

"Every student and youngster has his own Chashme Buddoor (student life) phase to recount. In my younger days I had my own set of friends in Delhi with whom I'm still in constant touch with," he says about the inspiration behind the film.

That's not all for the director though.

After the success of Bhaag Milkha Bhaag, Rai too is ready with a script based on a sport. His next, titled Main Manjula Parmar, is the story of a girl from the interiors of Rajasthan who becomes a basketball champion and represents India at the Asian Games.