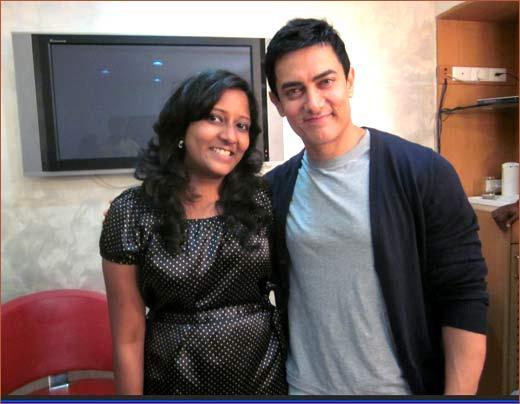 Aamir Khan's new television show Satyamev Jayate has seen several victims come forward and talk openly about the crimes committed on them.

The first episode featured mothers who were forced to abort their female foetuses.
In the second episode, victims of child abuse came forward to share their trauma.

Cindrella Prakash gave her testimony on the show, and narrated an incident of how she was molested by a relative when she was barely 12 years old.

Living in Mumbai, Cindrella works in the Public Relations industry, and also composes and sings Hindi gospel songs. The 25-year-old has already launched two albums: Mehfuz and Mehfuz Vani.

Cindrella talks to Rajul Hegde and shares her experience on the show:

How did the Satyamev Jayate team zero in on you?
One of my favourite documentary filmmakers, Timothy Gaikwad, knew my testimony and my song, Mehfuz. Last year, he decided to make a documentary called Abuse on Women in India and asked me to tell my story through his lens. That documentary is called Purushatva: Men Who Dare.
The Aamir Khan Production team happened to watch this documentary, and then, after a lot of research, called me. They followed it up with a couple of interviews; the final interview was taken by Aamir himself.

What made you come on the show?
My father always gives me one advice: If it brings glory to God, do it. That was my major driving factor. Secondly, it's a privilege to be a voice for the voiceless. About time, I say.

How did your family react when they saw you on TV?
My brother called me from London and said, 'Honey, I'm proud of you. No one ever speaks of these things and I'm proud that you did.'
My father saw the show, hugged me, kissed me on my forehead and said, 'Beta, you're my tiger.'
I am grateful to God for giving me such powerful men in my life, who support me through everything.
Apart from them, I have a strong set of friends who are fiercely loving and supportive of me. They sat with me and we saw the telecast together.

What response have you got from this show?
The response has been, as expected, liberating. The show has caused a spirit of liberation among people. I have received over 500 mails on Facebook, over 200 phone calls and text messages. People said they loved the show and also disclosed their own struggle with abuse. They told me how my interview and smile helped them to break their silence.
That apart, I was trending on Twitter in India! :) It's just been humbling.

Tell us about the episode.
The interview was shot towards the end of February.
If you've seen the show, you'd know that I'm not sulking or dejected. I have forgiven, forgotten and continue to love him.
My interview was shot in one take. Aamir was particular about getting fresh and unrehearsed retorts to his questions.
What was your interaction with Aamir like?
The first time he stepped into the sets to meet us, he knew us by name. Within five minutes of interacting with us, he was tearing up. He was so keen on our well-being that he asked me at least 10 times in two days, 'Cindrella, are you comfortable?'
Not only that, he invited some of us to have lunch with him on the day of the shoot and also called us on the evening of May 13 to check on us. I'm glad I could play a small part in Aamir's journey.