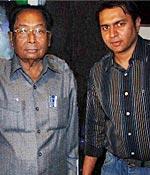 What do the National Award-winning infidelity drama Anuradha (1960), the three-hanky blockbuster Aradhana (1969), the youthcentric whodunit Khel Khel Mein (1975), the reincarnation drama Karan Arjun (1995) and the superhero saga Krrish (2006) have in common?

Sachin Bhowmick contributed his immense writing skills to each of these diverse films.

Bhowmick, who passed away on April 12, at age 80, enjoyed a remarkable Bollywood career, not only because of the sheer range evident in his oeuvre but also because it straddled an unprecedented five decades. The eminent story and screenplay writer remained relevant in a business-minded film industry known to dispense with its citizens at every turn of a trend.

A writer, a father

The soft-spoken, bespectacled Bhowmick is remembered equally for his courteous, civilized manners as for his gifted penmanship. Son Sandeep Bhowmick, who is currently working on his own scripts, says: "He was the best father anyone could have asked for. He was a very simple and humble man, who never lost his cool. He was never a filmi person at home; he would prefer to be in his plain cotton lungi and ganji at most times. He never had any airs and spoke to everyone with a smile."

The industry too speaks of Bhowmick with the affection reserved for one of its veterans. Bhowmick became one of the few Hindi film writers who achieved fame for himself and for many years, his name tagged onto a project lent it commercial viability.
Subhash Ghai, who visited the ailing Bhowmick in the hospital, says: "His demise is a great personal loss. He was a legend in screenplay writing and he led me from Karz, Karma, Khalnayak and Taal to Yuvraaj. He was a true gentleman - interested in films but never filmy."

Shammi Kapoor says: "May God give his son strength to bear this. Sachin Bhowmick and I have worked together in many movies -- An Evening In Paris, Brahmchari, Preetam -- and we sort of grew up together. He was a brilliant writer, well-read and watched a lot of movies and dramas. His Aradhana is one of the most brilliant pieces of work. He made all types of movies -- emotional melodrama and romances as well as Brahmchari, which was completely opposite."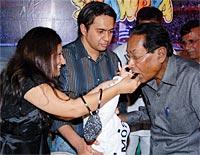 In the A-List

His flair for writing drew Bhowmick to Bollywood at a time when stalwarts like Pandit Mukhram Sharma and Akhtar ul Iman were penning classics for Hindi cinema. After writing the screenplay for the Mohan Sehgal-produced Lajwanti (which was Nargis' last release till almost a decade thereafter), Sachin Bhowmick moved on to working with a clutch of A-list filmmakers whose names are synonymous with 1960s cinema -- Hrishikesh Mukherjee, Pramod Chakravorty, Bappi Sonie, J Om Prakash, Mohan Kumar and Shakti Samanta.

Bhowmick's stories were quintessentially Bollywood and reflected the cinema of its time. They could be tagged as social films. They were mostly family dramas or romantic tales, often with well-delineated roles for the heroine (Ziddi, An Evening In Paris, Aradhana) in an era marking a shift towards male dominance.
With the dawn of the 1970s, Bhowmick proved himself capable of adapting to the times and his work took on a harder edge. It encompassed more action (Jugnu, Azaad) and suspense (Khel Khel Mein) though he also continued to collaborate fortuitously with Hrishikesh Mukherjee on laugh riots like Gol Maal. He cast the stars of Aradhana -- Rajesh Khanna and Sharmila Tagore -- in his directorial debut, Raja Rani, but the film was a box office disappointment.

For a while in the early 1980s, it looked as if Bhowmick was losing his edge along with the fast-deteriorating careers of his long-term collaborators (Nasir Hussain, Pramod Chakraborty, J Om Prakash); but the writer forged two new profitable associations -- with Subhash Ghai and Rakesh Roshan -- that saw him remain in the vanguard well into the new millennium.

An examination of the extraordinary length of Bhowmick's career throws up certain verities about Bollywood itself. Bhowmick was able to form long-term relationships, called camps in insider terminology, with several big-name filmmakers -- he has worked in over 10 films with Hrishikesh Mukherji, teamed up with Pramod Chakravorty for an incredible dozen films, and collaborated with Bappi Sonie, J Om Prakash, Nasir Hussain, Subhash Ghai and Rakesh Roshan in over five films each.

An encyclopaedia on cinema

Bhowmick's passion for cinema and his encyclopaedic knowledge of films is another factor that contributed to his continued success. Naresh Malhotra whose Yeh Dillagi was produced by Yash Raj Films and written by Bhowmick says: "Dada was a library on cinema. You ask him anything and he will give you the answer. You want some variation in the scene and he would give you 12 ways of doing the same scene. He has written the maximum number of films and he is the one who has given maximum jubilees."

Honey Irani and Bhowmick were part of the screenplay team for Krrish and Koi... Mil Gaya and she looks back at him with affection and admiration. "We would give Dada a scene and he would tell us from which film it was and which actors had enacted it."

Director Raj Sippy is of the same view. He says: "He was a total dictionary on films. You could talk to him about any film -- Hollywood, Bollywood, whatever -- and he would tell you the year and the actors."
Sippy, who worked with Sachin Bhowmick on Andar Bahar and whose father's production company worked with the writer on Gol Maal, says, "I don't think any writer has got the amount of superhits that Sachin Bhowmick has to his credit. And if you are working with such a good man, half the battle is won. He had delivered so many superhits, yet would listen to a first time director. He was open to suggestions."

In step with the times

Bhowmick's ability to move with the times was the reason for his career's long trajectory. Malhotra says: "He would rake the entertainment value of old times and use it in today's thinking."

Honey Irani adds: "He was up to date on what was happening. He completed 50 years in the industry as a writer because he was passionate about his work and because he was a very well-read person. You could talk to him about anything under the sun. And of course, he was genuinely a fabulous person to work with -- and I'm not saying this because everyone says the same thing after someone passes away. He has always been a very good writer throughout his career but alongside he was a good person with no ego hassles. We never clashed. I met Dada in hospital last..."

An amiable gentleman

Bhowmick's peaceable amiability set him apart. Sippy laughs: "That man had a terrific sense of humour, I can tell you that. And he would crack jokes pokerfaced."
Malhotra says: "I knew him for 20 years and not once did I see him angry. He would never discuss money either; you'll never hear of him walking out of a film over money issues. He was on good terms with everyone."

Tanuja Chandra echoes the sentiment. "We worked on the initial script of my first film, Dushman, and even though I was a debutant director and he the writer of many big films, he spoke to me with great respect. I treasure those times because they were so warm and productive. He was a very well-read person, and watched a lot of films as well. He was very easy-going, and fun to work with at the same time."

Chandra's analysis of Bhowmick's achievements deserve the last word: "It's an amazing achievement to survive 50 years in any field, but in film writing it's all the more exceptional because entertainment has changed so much over the years." 

With inputs by Jigar Shah and Krutika Behrawala