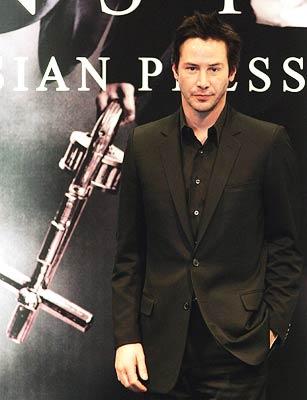 Stars are who they are essentially for their ability to be uniquely special.
Keanu Reeves, as the Architect in Matrix Reloaded would say, is an 'anomaly.' He is a star, yes, a considerably big international A-lister, but why? The answer is interesting: he has made a career out of looking confused.

That bewildering expression changed momentarily into a big, cheesy, well-deserved grin as the dark-haired actor got his own star on the Hollywood Walk of Fame on Monday. The 40 year old's star is the 2,277th on the famed pavement in Hollywood Boulevard.

Keanu rose to the spotlight playing the endearingly dumb air-guitar lover Ted Logan in the 1989 comedy Bill & Ted's Excellent Adventure. While the word 'du-de!' (stretched over several syllables) entered the teen lexicon worldwide, Keanu's mainstream starring turn really came with the 1994 action hit, Speed, opposite Sandra Bullock. Suddenly, he was a recognisable face.

Then came the Wachowski brothers, who propelled him to stardom with the pathbreaking 1999 sci-fi thriller, The Matrix, and its painful sequels, Matrix Reloaded, and Matrix Revolutions. Keanu, with his jet-black Nehruvian jacket and wraparound glasses, became a global sensation.
The mega-hit trilogy starred Keanu as Neo, the man chosen to fight a bizarre war against technology. Playing the character, as is obvious, involved a great deal of credible 'what's going on?' expressions, a facet of stupefication the actor has quite made his own. 

'Hollywood was calling. So I got in my car, a 1969 British racing green Volvo with holes in the floor and bricks holding up the seats. I was a young man full of hopes and dreams,' Keanu said at the Walk of Fame ceremony, the BBC reported.

Evidently, not much wit on display. Well, why dispel the image that has cultivated fans worldwide?

Keanu's next film Constantine, a supernatural thriller which is the ambitious adaptation of DC/Vertigo Comics' Hellblazer, is set to release in the US on February 18.
The movie comes to India on February 25. Don't expect a brilliant performance, but when the special effects finish and the smoke clears, you can bet you will see a star who looks around dazed and confounded like no one else can.
Text: Raja Sen
Photograph: Keanu in Hong Kong to promote Constantine (Getty Images)