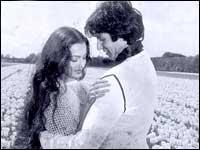 We at
rediff.com asked you
whether you would like to change the endings of certain films, and we were swamped with replies from budding scriptwriters!
Here's Part III of Movies Rediff Readers Rewrote:
Nikhil Deshmukh: I would have liked to see Silsila ending with Amitabh Bachchan and Rekha eloping together, and Jaya realising that she cannot come in the way of true love (Amitabh and Rekha). This film should have been made by Ekta Kapoor, wherein Shashi Kapoor returns from the dead (he had actually not died!). For those who don't know, Shashi Kapoor plays Jaya's dead boyfriend.
Shashi-Jaya and Amitabh-Rekha should have lived happily ever after.
Sigh, if only the director could think like Ekta Kapoor.
Ruban Sasidharan: Dhoom should have ended differently. In the movie, Abhishek Bachchan and Uday Chopra surround John Abraham in the end, which leaves John with no option but to ride off the cliff.
At this point, Abhishek says, 'If you were not a thief, you would have been my friend.' Stressing on this point, I suggest that when Abhishek and John fight, it should slowly lead to a heated argument where John brings out the bond of friendship that Abhishek feels for him deep inside.
After this, Abhishek just takes the money and asks John to escape. John escapes without the catch and Abhishek is successful in saving the hotel's money and above all, making a friend who he would never see again in his life!
The movies rediff readers wrote Part I
Debarshi Roy: I would change the end of Sehar.

It would have been better if Arshad Warsi did not die in the movie. He could have been injured but should have recovered in the hospital.
Jimmy Sebastian: I sympathise with Behari Babu (Tota Roy Chowdhury) in Chokher Bali. When he realises his love for Aishwarya Rai in the end, he should have been able to marry her. The film should have had a happy ending.
Dev Raj: In Salaam Namaste, Nick (Saif Ali Khan) should have remained the way he was (a bachelor) and Ambar (Preity Zinta) should have had a miscarrage. Life should have gone on for both.
Cut to five years later, Amber is married to her doctor friend (Abhishek Bachchan) and has a child. Nick is still cooking for his resturant, Nick of Time, and living in with another girl!
Movies rediff readers wrote: II
Wadud Majid: I would have changed the ending of Humraaz. The ending should have been that Amisha Patel not only ditches her husband Bobby Deol but also creates a situation where her ex-boyfriend Akshaye Khanna is killed by Bobby. She should be shown as Bobby's secretary and that it was all planned by her all along.
Nishant Jha: The perfect ending for Dil Se would be that Shah Rukh Khan, with help from Manisha Koirala, gets her gang of terrorists arrested.