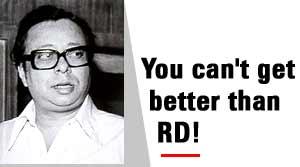 One of the greatest music composers of all times, Rahul Dev Burman's music is extremely popular.
Pancham, as he was fondly called, died on January 4, 1994.
rediff.com asked readers to send in 25 of their favourite R D songs. Gaurav Sharma compiles his top 25.
Aaja meri jaan (Aaja Meri Jaan): The song was excluded from the film but its melody is magical. It is one of R D's best. It makes me cry every time I listen to it.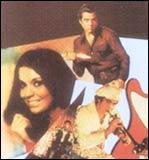 Chura liya
(
Yaadon Ki Baaraat
): This is one of the most popular numbers of India. It is our answer to
Hotel California
(sung by the Eagles).
Dum maro dum
(
Hare Krishna Hare Rama
): This Dev Anand film was overshadowed by this song.
Pyar karne waale
(
Shaan
): The song had amazing orchestration, way back in 1980.
Aaja aaja main hoon pyaar tera
(
Teesri Manzil
): The breathlessness of the singers was used as rhythm for this song. it made the legendary music composer Anil Biswas say, 'Had Pancham not been younger to me, I would have touched his feet.'
Jaane kya baat hai
(
Sunny
): What an immortal classic in Lata Mangeshkar's voice!
Aisa samaa na hota
(
Zameen Aasmaan
): A magical blend of Lata Mangeshkar's voice, Pahadi flute and Western instruments.
Yeh zindagi kuch bhi sahi
(
Romance
): The man who was behind most peppy numbers also sang this 'pacy' sad song.
Tu tu hai wahee
(
Yeh Waada Raha
): This is the most beautiful romantic duet I have heard. Even the pathetic remix sounds good!
Aao twist karein
(
Bhoot Bungla
): The king of classical numbers Manna De sang this fresh pop number.
Ek main aur ek tu
(
Khel Khel Main
): It is one of the best songs of the young and naughty Rishi Kapoor-Neetu Singh pair!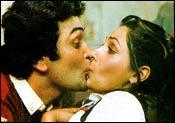 Jaane do naa
(
Saagar
): If a girl sings this way, who would let her go? This song is among the most sensual ones.
Yaad aa rahi hai
(
Love Story
): This is Amit Kumar's best number. The song even made (father) Kishore Kumar cry when he was recuperating at a hospital following a stroke.
Pyaar main dilpe maar de goli
(
Mahaan
): Try and sing this song and you will see how charged you can get! It has an amazing tune.
Jahaan teri yeh nazar hai
(
Kaalia
): This is a perfect party track. Slow pace, yet it gets you to your feet!
Aise na mujhe tum dekho
(
Darling Darling
): For those who have only been exposed to the pathetic remix by Vikas Bhalla, you must check out the original. It is mind-blowing.
| | |
| --- | --- |
| | Don't Miss! |
| | |
Kasme wade nibhaayenge hum
(
Kasme Wade
): This was composed in the kitchen of lyricist Gulshan Bawra. Even without much concentration, Pancham could compose such immortal tunes.
Baahon mein chale aao
(
Anamika
): Check out Lata Mangeshkar's voice. Can one get any naughtier?
Na jaa jaane jaa
(
Joshilay
): R D sang this song for Sunny Deol. He sang the
mukhda
in all possible permutations and combinations. The song was penned by Javed Akhtar.
Beeti na bitaye raina
(
Parichay
): This was composed in the room of Mumbai's Hotel Caesar's Palace, in about five minutes. This song won Lata Mangeshkar and Bhupinder National Awards.
Mera kuch saamaan
(
Ijaazat
): This has a haunting melody. It is unbelievable how Burman missed the National Award when Asha Bhosle and Gulzar bagged it for this song.
Mamaiya kairo mama
(
Arjun
): This song signifies youth. What attitude!
Hum kisise kam nahin
(
Hum Kisise Kam Nahin
): Talk of
qawwali
, here comes the king.
Lalla lalla lori
(
Mukti
): This was the nation's
lori
(lullaby) composed by the legend.
Kiska rasta dekhe
(
Joshila
): The song is a great blend of Kishore Kumar's voice and lonely tunes. One feels the pain by simply listening to it.
Click here for More Features