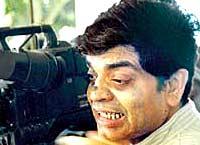 Will filmmaker Sandip Ray's Feluda, the brilliant sleuth -- Sherlock Holmes of Bengal that his father Satyajit Ray created-- be listening to Chinese songs in Hong Kong? Foxed? Don't be. The movie icon's descendant is ready to shoot his second Feluda film, Tintorettor Jishu.
Riding high on the success of his earlier Bombaiyer Bombete (it ran for more than 20 weeks at a south Kolkata cinema after a December 2003 release and forced a rerun), the director will be shooting in and around Kolkata, at Jhargram, parts of Chattisgarh and Hong Kong. The shooting will continue for two months. "It is my way of saluting one of the greatest creations of Bengali literature," says Ray. "The end of 2006 marks the 40th anniversary of the first Feluda story, Feludar Goyendagiri, published in (Bengali children's magazine) Sandesh. What better way to celebrate than making a film on one of Feluda's investigations?" he asks.
Satyajit Ray's Feluda is back again
Tintorettor Jishu
revolves around a priceless painting by Renaissance artist Tintoretto being targeted
by an international smuggling racket. The plot is built around how Felu
da
foils the smugglers' plan. The director has stuck to the old trio of
Bombaiyer Bombete
— Sabyasachi Chakraborty (Felu
da
), Parambrata Chatterjee (Felu
da
's cousin and Dr Watson Topshe) and Bibhu Bhattacharya (Felu
da
's friend and writer Jatayu aka Lalmohan Ganguly). Incidentally, pooh-poohing the scepticism of ardent Felu
da
fans, Sabyasachi Chakraborty has been able to earn a place for himself in the hearts of millions.
Ray has been cautious not to lend too much modernism to the sleuth's character so it tells upon its authenticity. But "somewhat in the lines of Bombaiyer…, I have incorporated modern gadgets like a cell phone to make the character contemporary," he adds. The director has otherwise stuck to the 'no-song, no-woman dictum' laid down by his father for Feluda stories and films made on them. However, Ray has included reputable singer-actor Shilajit into his team. His reason? "I felt the plot needed someone of his stature and baritone." Unlike his earlier film, Ray has not yet roped in any Bollywood name. "The plot of Bombaiyer… necessitated the inclusion of actors from the Hindi film industry. This film does not."
Taking into account the months of shooting, post-production and other work, Ray is eyeing a November release. "The film is meant for children and I intend to entertain them during their winter holidays."