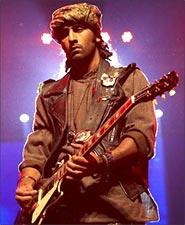 With rave reviews and great box office collections, Rockstar seems to be an important film in Ranbir Kapoor's career. But is it his biggest hit yet? We decided to ask the trade pundits.

"It is biggest sole opener in Ranbir Kapoor's career. But Rajneeti was a bigger hit," says media professional and industry observer Abhijit Mhamunkar.

He claims that Ranbir's fan following has increased because of the response the film has generated. "Now, Ranbir is above his contemporaries like Shahid Kapoor or Imran Khan. They have not generated such an opening in any of their films so far. At the top of the list are the Khans, then comes Ajay Devgn and Hrithik Roshan. After that is Ranbir," he says. 

"The first weekend's collection of Rockstar was Rs 33.75 crores. It was around Rs 5.75 - 6 crores. The first four days' collections was around Rs 39 crores. The collections started falling from Monday onwards -- it dropped about 50 percent. But college students are still going and watching the film through the week. Plus, next week, there is a very small film releasing: Shakal Pe Mat Ja. So he gets another open week."

However, single screen theatres saw bad openings, and the collections further dropped in the week, he claims.
Then again, the target audience for Rockstar was the multiplex audience, and they have responded positively.

"The biggest plus point of the film is Ranbir Kapoor's performance. The second highlight is the music. The negative point is the fractured narrative in the second half but those who like the film will ignore this problem," he explains.

He claims that Shahid Kapoor's Mausam had good music and a poor second half, but people did not flock to watch it. That just shows that Rockstar is a superior product. 

"Rockstar will recover its money. The distributors will earn at least Rs 40 crores, which is a huge amount," says Abhijit.

Trade analyst Vinod Mirani agrees, "Rockstar is doing well in multiplexes but is rejected in single screens."

He feels that the film may not be a hit because the budget was huge. "But it has got the best initial draw," he says.

"After watching the film, the audience will like only Ranbir Kapoor. Even the music will not be appreciated because you cannot understand the lyrics," he says.