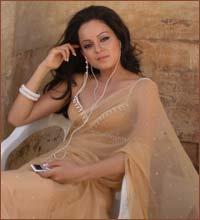 Ram Gopal Varma is planning a heroine-oriented film with Kangna Ranaut in the lead.

According to sources, this is the real reason why Kangna opted out of the relatively minuscule role in Ramu's Department.

Various reasons have been given as to why Kangna decided to opt out. The real reason had nothing to do with dates clashing with another project.

In reality, Ramu actually advised Kangna to stay out of Department and instead work with him on another project where she would have more to do. The two had a long discussion on the matter.

Apparently, Ramu offered Kangna a script that takes the Satya saga forward. It was especially written for her, and Kangna happily complied.

A clear echo here of the time when Madhuri Dixit's cameo in Subhash Ghai's Karma was scrapped when the Showman saw her potential and offered her the lead in Uttar Dakshin instead.
Says a source, "There was the issue of Kangna's role being insubstantial and then there were date clashes with Sanjay Dutt."
The source adds: "Ramu really thinks Kangna is a special actress. He doesn't want her to have a supporting role in his first project with her. Department is a boys' film through and through. Amitabh Bachchan, Sanjay Dutt and Rana Daggubati have the main roles. The women are peripheral. Ramu did some quick re-thinking and wrote a subject especially for Kangna. He didn't want to spoil their collaboration with a less-than-central role."
When contacted, Ramu admits, "Yes, Kangna's role (in Department) is being done by Anjana Suhkani. I'm working with Kangna on something entirely different. There were problems co-ordinating her dates with Sanjay Dutt's."
Interestingly, this is the second time Rana Daggubatti's pairing with Kangna has been aborted. Earlier, she was supposed to play the role in Dum Maaro Dum that eventually went to Bipasha Basu.