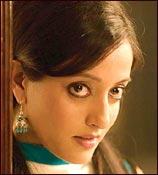 Raima Sen has proved that she is not just a beautiful newcomer.
Post her role in Rituparno Ghosh's Chokher Bali, she has a number of offers for a wide range of roles, like Ghosh's Khela, Vidhu Vinod Chopra's Eklavya, Ram Gopal Varma's Shock and more.
When Raima chatted with her fans on Tuesday on the Rediff Chat, readers were clearly over the moon.
For those who missed the chat, here's the transcript:
ronit : i think one day bong heriones will rule the bollywood
Raima Sen : I think they will too. Bongs have a lot of spunk.
---
natty : HIIII UR BEAUTIFUL!!!! I REALLY LOVE UR EYES !! I AM A BIG FAN OF URS N ILL SURELY PRAY THAT U GET A ROLE LIKE WHAT RANI DID IN BLACK !
Raima Sen : Thank you. This is Raima here. Please watch my films and keep being a fan.
---
easha : hi raima this is easha here
Raima Sen : Hi ed, what are you doing online? Are we meeting today?
---
SenCube : Rai, I found to be more attractive then yr sis, becuase of ur innocent looks. Am i deceived?
Raima Sen : Looks are always deceptive. As long as I can get away with my innocent looks, I am not offering any explanantion.
---
diwakar : Hi Raima dev verma do u remember me we used to go for same tuitions near deshpriya park ??????
Raima Sen : I have a very short memory but I remember going for tuitions at Deshapriya Park.
---
meet : hi which film u r doing with rituparno ghosh???
Raima Sen : I have just done Khela with Rituparno Ghosh. Please watch it as it hits the theatre.
---
pankajjagani : hello raima, which are your forthcoming film and tells about your roll in the film
Raima Sen : Please watch the films Eklavya and Meridian and see the roles I play for yourself.
---
Mask : Hi Raima... Don't you think doing small roles like the one u did in Parineeta is like going one step forward and 2 steps backward? Don't you think probably you need to cut those roles and look for a meaty one?
Raima Sen : I think that that small role in parineeta fetched me a lot of praise and recognition and thanks to that film I have got many solo leads this year. It's better doing small roles in nbig films than doing a small solo film which no one watches.
---
Vishwas : even though being the granddaughter of suchitra sen, dont u thnk the offers are bit less to u?
Raima Sen : Being someone's daughter and granddaughter really doesn't help when it comes to films and acting. It depends solely on your talent and I am grateful for where I am today.
---
JustForYou : Please say hi...waiting since long for your hi!
Raima Sen : helllooooooo!
---
samrat : Hi there, Needless to say am your great fan.Really like your poise and grace with which you carry yourself.All of us in Cal. are extremely proud of you.Would look forward to seeing you in Khela.More so as Sudipto my cousin I am told has a small role in it.All the best for everything that you embark upon!
Raima Sen : Thank you very much. All the best to you too.
---
aarti : hi raima, how r uYou are really so gorgeous
Raima Sen : Thank you Aarti.
---
Avinash : are u doing any southindian film.i read it in a magazine that u r doing regional films more than hindi films.do u hate indian film industry
Raima Sen : I have just done one Telugu film Dhairyam and I am doing a lot of bengali films and love the film industry. Watch out for my new Hindi films.
---
Rohan : hi Raima what insored you into movies
Raima Sen : I come from a film family so I think it was always there in the back of my mind to join films. It just happened automatically.
---
Swati : Hi Raima.. I am a Bengali female as well... How abt starring with ur mom and sis in a film together... I have been a gr8 fan of ur mom.. I really luv her acting and her looks as well... she deserves every bit of praise.. Y do u want to act in South Indian Movies?
Raima Sen : When we get a film together, we will definitely love to act together. I am not acting in any more South Indian film as of now.
---
Shanker : Why you are into so bad Bollywood industry..Its really bad..Woman has to do lot of sacrifices to get films. Is this true ??
Raima Sen : Only the Bollywood industry is not bad. All the other industries are equally bad but they are never highlighted. Women get exploited in every field. It really depends on an individual to take care and handle herself.
---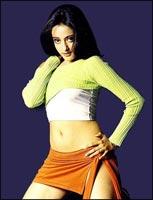 kritanshu : hi! well I feel u prefer doing only quality roles, but dont u feel in doing so u may be left out of competition
Raima Sen : I don't feel I am left out of competition. I feel slow but steady always wins the race.
---
rup : hi raima,u r really very beautiful can u give any tip to get such a glorious skin and healthy hairs
Raima Sen : Drink lot of water, exercise, eat healthy food and sleep a lot.
---
ash7 : i m ur gr8 fan...whether u r on the top or not but u will be on the top of my heart...
Raima Sen : Thank you.
---
gayatri : You are doing only performance oriented roles. don't want to do any commercial films?
Raima Sen : You will see me in a lot of commercial films this year. Watch out!
---
manju1024 : Oflate....rima we are not seeing u in serios roles.......any special reason.....i think that's where u can show ur talent rather than commercial movies
Raima Sen : I have done a lot of serious roles like the ones in Chokher Bali, Godmother, Daman.
---
Swati : One more Question...Dont u think Media reads a lot between the lines abt u and ur sis Riya's Rivalry? dont u thk that Media sensationalises everything abt movie stars.. do u thk it is rt?
Raima Sen : Yes media does go over the top at times. But if you are star, you need to take it in your stride. Because one also needs the media.
---
amitSingh : Hi Raima, I really like ur acting in Parineeta
Raima Sen : Thank you.
---
Amyth : Hi Raima, I think you are extrmely gorgeous and I think you deserve to be in the lead roles....any future projects that have you in the lead??
Raima Sen : Please see me in my next Ram Gopal Varma film Shock where I play the lead.
---
shrinivas : Hi raima, i liked u very much in telugu movie, remember ur first movie. u rocked in that. i want u to perform like wise in bollywood too. love u
Raima Sen : Thank you. You will see lot of films this year.
---
AtulKamley : Raima, I will die in few mins if you will not say hi to me
Raima Sen : Hiiiiiiiiiiiiiiiiiiiiiiiiiiiiii!!!!!!!!
---
mverma1 : Plz don't mind i'm a big fan of aish, that's why is asking you.How was your experience working with aishwarya rai ?
Raima Sen : It was great working with her. She is a lovely actress and very beautiful.
---
r_makadia82 : raima i understand you have a only one person and in other side there are in a many other people to giving a answer, so atleast can you give my only one question answer ? my question is related with ur marriage have u any planning for marriage in a recent time?
Raima Sen : Not interested in getting married at least for the time being.
---
coool : hello raima !!!how do u de stress your self
Raima Sen : I work out in the gym.
---
amitkeshri : Hi, are you planning to do any movies with Emraan Hashmi
Raima Sen : Why do you ask this question?
---
gs : how do you rate yourself in film industry
Raima Sen : I am not into numbers. I believe in working sincerely.
---
paarch : raima ur role in parineeta was short but a sweet memorable role u looked great without makeup
Raima Sen : Thank you.
---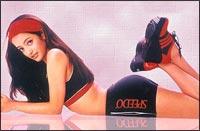 deeproy : Raima - Benagali Cineam still now is not able to recover the glory of Suchitra Sen and Uttam kumars era - do you agree with this ?
Raima Sen : Yeah, completely.
---
baba : wud u mind saying "HI" to me
Raima Sen : Hiiiiiiiiiiiiiiiiiiiiiiiiiii!!!
---
vrinda_m20 : which is your next film releasing and when?
Raima Sen : My next two films will be Meridien and Eklavya. Release dates of these two I am not sure of.
---
krishnendu83_feb : if you dont reply my question then i have to marry the girl i hate.plz
Raima Sen : But what's your question?
---
sri_karuna : Raima, I am quitting....... you are not replying at all........... bye and wish you all the best of luck in your career.
Raima Sen : Thank you. It's very difficult for me to answer each one's question. I hope you understand that.
---
radha : what is the meaning of RAIMA??
Raima Sen : Raima stands for a part of fullmoon. My name also comes from one of the rivers of Tripura, my father's homeland.
---
raj_12 : Hello Raima, Did you complete your college? Where did you go?
Raima Sen : I completed my graduation in Kolkata in Rani Birla College.
---
ramu : I promiss i will not see your movies if won't reply. Say Hi atleast
Raima Sen : Hi. Please see my fortcoming films.
---
Raima Sen : Hey guys. Nice chatting with you. Sorry, I could not answer everyone!
---