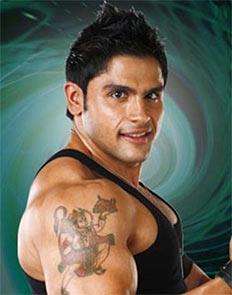 After a long and anxiety-ridden wait for his acting career to take off, Mahesh Bhatt's estranged son Rahul Bhatt is finally getting ready for his big launch.

Titled Bad, Rahul's launch vehicle will be produced by elder sister Pooja Bhatt.

Incidentally, Pooja had originally chosen the title for a biopic on notorious serial killer Charles Sobhraj's Tihar escape.

Confirming the news, Pooja said, "The script is being worked on. We will rope in a director once it's ready.
Reports claim that Rahul Bhatt's debut film will see him play a character with grey shades.

"It will be a full-on action film. The focus is on the introducing Rahul as an action hero," a source said.
An excited but cautious Rahul revealed, "I've waited very long for this to happen. I am not saying anything until my sister makes an announcement."

The Sobhraj biopic, to be directed by Prawaal Raman was abruptly shelved after Pooja had a fallout with him.